Post by El Propietario de GOL! on Sept 19, 2017 9:32:41 GMT
The night time has come in on the streets of Los Angeles. You are looking at this first tense so it's like you literally watching this from your own eyes. Outside this rundown building that looks like it is beginning to rust and needs renovation are a group of fans that are outside smoking. A few are wearing masks while there is one particular guy that is the source of the humour. You are walking towards the group to which the closer you get you see the group smoking recreational drugs. The one main guys turns around and sees you and immediately approaches you while wearing his expensive suit
BOOOOOOOOOOOOOOOOOOOOOOOOOOOOOOOOOOOOOOOOOOOOOOOOOOOOOOO
"Oh you're back again! Well I've disposed of the former GM of GOL so I'll be your guide!
He invites you in as the doors are opened by Hispanic bouncers. You pull your ticket out from your wallet and hand it over to staff who scan it and stub it for you.
"Thanks again Sir!."
"My pleasure!!!"
He winks at the female staff member before looking at you and waves you to come up the stairs; you see the masks again and see how there are so many of them.
"This needs to go."
BOOOOOOOOOOOOOOOOOOOOOOOOOOOOOOOOOOOOOOOOOOOOOOOOOOOOOOO
You are handed a beer by bar staff.
"Make Sure you pay for that when you get your seat!"
You get to the top of the stairs and see fans drinking and having a good time. You hear really heavy music as Dragon continues to talk to you.
"As the former GM mentioned, we have a top tier with a balcony and a stand that leads to the bottom bit where the ring is. Bars are on both floors, that's important. There's food carts available too. You know now the Luchadors and Luchadoras come through that door over there and then down the stairs at the other side and then walk down stairs through the crowd! We can fit about a thousand. Again all we ask is you respect those that deserve respect, but you can shove the dicks though! Oh we better give you a better view!"
Diaz opens the door to let you through and you are once again in awe of the energy of the labyrinth. You see on the left a heavy metal band playing really heavy music as the fans chant loud, waiting for the show to start! You see the sold out labyrinth with fans chanting and singing having a great time.
"A mariachi band replaces the heavy metal band as Diaz goes to applaud the crowd to a chorus of boo's over the barricade of the upper balcony. The fans see him and abuse.
"ARE YOU GUYS READY FOR SOME LUCHA LIBRE ACTION!"
BOOOOOOOOOOOOOOOOOOOOOOOOOOOOOOOOOOOOOOOOOOOO
"So what are we waiting for? Get your seat, sit down and prepare to enjoy the show!
Chapter Trece officially commences. Diaz goes to his private court on the upper balcony The Mariachi music gets louder as the camera pans all of the fans and then right on to our commentators of GOL; Luchadora Sabrina and colour commentator Eli Buchanan.
S: Carlos Diaz begins his reign as temporary commissioner of the Guerreros of Lucha, much to the dismay of the crowd! Welcome us back to the Labyrinth. I am Sabrina and to my right is the one and only Eli Buchanan.
Eli: What the fuck is the matter with everyone?! This is a fantastic addition and this show is going to be awesome!
S: We hear from former and current champions and we have a former Lucha return to the Labyrinth! It's all happening before the Dia De Los Muertos supershow!
Eli: Courtesy of Mr Diaz!
DING DING DING
TC: Ladies and gentlemen, please welcome….Making his return to the Labyrinth!
…
…
…
WOOOOOOOOOOOOOOOOOOOOOOOOOOOOOOOOOOOOOOOOOOOOOOOOOO!
S: CAN IT BE?!
The fans are on their feet as mini fireworks go off on the upper balcony before revealing the former Rey De Reyes champion!
S: IT IS! AM3 IS BACK!
Miles high fives several fans before slowly walking down the balcony.
Crazy Mark: AAAAAAAAAAAAAHHHHHHHHHHHHHHHHHHHHHHHHHHHH!
The crazy Mark fan kisses his male counterpart in excitement as Avery rolls into the ring before posing right in the middle. He gets a microphone as his music is cut from the P.A system.
Eli: First night running GOL by himself and he manages to get Avery Miles III back in the Labyrinth!
S: We haven't seen Miles in months due to a knee injury he picked up!
WELCOME BACK! WELCOME BACK! WELCOME BACK! WELCOME BACK!
Before that chant turns into
AM3! AM3! AM3! AM3!
Miles goes to speak but pauses as he embraces the atmosphere!
WOOOOOOOOOOOOOOOOOOOOOOOOOOOOOOOOOOOOOOOOOOOOOOOO!
AM3: You guys haven't fucking changed on bit!
YYYEEEEEEEEEEEEEEEEEEEEEEEEAAAAAAAAAAAAAAAAAAHHHHHHHHHHHHHHHHH!
YES! YES! YES! YES! YES! YES!
AM3: Let me be the first to say that it is feeling damn good to be back right here in the Labyrinth!
WOOOOOOOOOOOOOOOOOOOOOOOOOOOOOOOOOOOOOOOOOOOOOOOOOOOOO!
AM3: Now the last time I was here I got myself tangled up in some barbed wire and hurt the knee of mines thanks to Sawtooth Grin!
BOOOOOOOOOOOOOOOOOOOOOOOOOOOOOOOOOOOOOOOOOOOOOOOOOOOOO!
AM3: Now I was hoping that he'd be back to finish the score but he and the Outliars tucked their tails and quit at the first sign of struggle! That's not what Avery Miles III does. I came in with an injury, got taken out by that injury and did I quit? HELL NO! I got my ass healed up and the moment I got cleared by the doctors I called Guerreros of Lucha and said "Hey, AM3 is clear. Get me a plane ticket to the Labyrinth and let me back on the show!"
WOOOOOOOOOOOOOOOOOOOOOOOOOOOOOOOOOOOOOOOOOOOOOOOOOOOO!
AM3: So let me get you all in the plan that we have for AM3. I ain't waiting around for shit to happen or for chances to come to me…I'm going out there to look for chances! And my number one goal at GOL is to become the first ever two-time Rey De Reyes champion!
WOOOOOOOOOOOOOOOOOOOOOOOOOOOOOOOOOOOOOOOOOOOOOOOOOOOO!
AM3: So whether it is Roxi Johnson, whether it Is Honey or whether it is Amy-Jo Smyth….I am calling out the champion for a showdown at Dia De Los Muertos!
The lights go out as the Labyrinth is completely dark.
S: What the hell is this?!
Eli: What's going on?!
Miles is clueless as he remains in the middle of the ring.
…
…
WOOOOOOOOOOOOOOOOOOOOOOOOOOOOOAAAAAAAAAAAAAAAAAAAAAAAAAHHHHHH!
S: What the hell?!
Eli: He hasn't been here in over a year!
Smoke beams from the bottom in the upper balcony as the returning Mohammed Al Thani emerges onto the Labyrinth! He smirks before focusing his attention on AM3.
Eli: The Pearl Gladiator is back! And he wants Miles!
Avery walks down confidently and rolls into the ring before confronting Miles III as the P.A cuts his theme.
S: We thought it was just the one return, we have two!
HOLY SHIT! HOLY SHIT! HOLY SHIT! HOLY SHIT!
For the first time in Guerreros of Lucha inside the Labyrinth. Avery and Mohammed confront each other as Miles happily passes over the mic to the Pearl Gladiator.
Al Thani: There's only one wrestler that is going to go and challenge for the Rey De Reyes title….and that is the Pearl Gladiator! But I can prove that with you first….
OOOOOOOOOOOHHHHHHHHHHHHHHHHHHHHHHHHHHHHHHHHHHHHHHHHHHHHHHHH!
Miles III and Al Thani smile at each other as they both stare at the Dia De Los Muertos banner. However, some members of the crowd spot something in the back!
OOOOOOOOOOOOOOOHHHHHHHHHHHHHHHHHHHHHHHHHHHHHHHHHHHHH!
S: OH MY GOD! ELI!
Miles III turns around.
…
…
…
AND EATS A SUPERKICK OFF HELENA NOIR!
Eli: HELENA FUCKING NOIR!
Miles is out as Al Thani looks at the situation. He goes for the attack, but Noir counters with the Ink your face superkick!
S: Helena Noir is back!
Noir sees both men out cold before picking up the microphone. She looks around as the crowd all look on in shock. She gets the microphone and paces around the ring.
Noir: Correction. The next lucha going on to challenge for the Rey De Reyes title is Helena fucking Noir! And I don't care who I go through to get their!
OOOOOOOOOOOOOOOOHHHHHHHHHHHHHHHHHHHHHHHHHHHHHHHHHHHH!
Noir's music plays before she leaves the ring as Miles and Al Thani try to regather.
S: What a fucking start to chapter Trece!
The video footage was taken on August 27th in San Diego, California.
Sitting at a bar are two people that have known each other for a very long time. One of them is GOL's newest star Alan Envy and the other is one of the most beautiful and most talented oro wrestlers there is...the Soaring Eagle Champion. Julliet Brooks.
Envy has a top shelf margarita sat in front of him with a shot of Cuervo. He takes a bite from a plate full of tamales.
"Oh my God….I needed tamales in my life. Now I'm content
She sets her phone down on the table and takes a sip of her beer then smiles as she watches him eat.
Julliet Brooks: I'm glad you're enjoying yourself. It's been awhile since we actually got to sit down and just talk due to our busy schedule.
Envy smiles as he takes a shot and follows it with the top shelf. He signals the barkeep for two more shots and another beer for his dinner companion.
"Yeah….we have both been ridiculously busy...me with Squires West you getting all married and stuff.
*He smiles at her as the bartender pops down two more shots in front of him and the beer in front of Julliet Brooks.*
She downed her drink and slammed the glass on the table. Meanwhile her meal arrived as she slowly cut into it with a knife only realizing that she was getting tipsy.
Julliet Brooks: I'm glad we could put work related stuff to the side and just have fun like we use to. So, let's change the subject. I heard you have a new woman in your life. Tell me about her, and what's she like.
She calls for another drink and looks on with curiosity.
Alan smiles as he thinks about his new lady Jessa Jane.
Alan Envy: Well...she is a part of the Wilson family….loves wrestling...loves traveling to shows with me. She's sweet….incredibly sexy….just an all round beautiful person. I really like her.
Envy looks at Julliet….
Alan Envy: So….if we could have….would there ever had been an us? You know if I wasn't married while you were single and you weren't engaged by the time I became single?? Have you ever thought about that??
She raised her eyebrow and touched his shoulder.
Julliet Brooks: Al, you been nothing but good to me since I've known you, but I always viewed you as just a friend…a really good friend. Why would you ask such a thing?
Envy smiles and sips his drink.
Alan Envy: Nothing….just the alcohol talking. Forget I asked anything.
Alan shakes it off as he finishes his tamale dinner….ordering another one.
Alan Envy: It was awesome seeing you win the title Jules..
Julliet Brooks: Thank you. It's been quite a journey, but I'm glad I was able to accomplish one of my goals since joining GOL even if it did take me three years to do so. You understand, right?
Alan Envy: Yeah...just won my first belt in two years. I guess us old timers are getting to the point that we only win championships at the right moment huh?
He playfully smirks as he starts his second tamale dinner.
Alan Envy: God I was starving…
Julliet Brooks: You can have mine. I wasn't planning on eating it all.
She slides her plate over as her phone vibrates, so she picks it up and looks at it then she shows him something. It was a picture of a wedding cake.
Julliet Brooks: Isn't this cake wonderful? Something I would love to have at my wedding.
Envy looks at the picture.
Alan Envy: Looks like the one I had at mine a few years ago.
The alcohol was starting to sit in as those old memories that he tried to keep suppressed started to come through. Julliet could see that she shouldn't have showed him the picture and got off the subject of her getting married.
The two remained quiet for a few minutes, but again the vibration from her phone broke the silence, she looked over it and laughed to herself before realizing she already had five drinks in total. The effect of the alcohol was starting to show and for a minute there, looking around the place to remember where she was.
Alan Envy: You ok there?
He smiles at her as he finishes his final drink and last tamales
She nods and looks at her watch.
Julliet Brooks: I believe my Uber driver is parked outside, so I should probably get going. It was so nice catching up and maybe you could introduce me to your girl next time we meet up. What's her name again?
Al Envy: It's Jessa, dear.
Julliet Brooks: Oh right, right. But anyway I should be on my way. Call me later.
She gets up from the table not realizing that she's forgetting her phone, but is too drunk to remember and instead leaves the place without it. Meanwhile Al remains sitting there.
DING DING DING
TC: The following Lucha is a one on one match!
The lights go out. A few seconds later, a creepy female voice tells everyone "open your mind" before glass breaks and "Senbonzakura" by Lindsey Stirling plays.
TC: From Extremadura Spain! He is the god of war! Julian Tijerina!
Out comes Julian Tijerina, bathed in varying shades of purple, with the hood of his sleeveless jacket drawn over his head. He holds on tightly to Pandoras Box. Julian bobs his head to his theme music as he takes to the middle of the stage. He feigns going down on one knee before immediately popping his head out of his hood, the lights coming back on as he does so, swallowing the purple spotlights out of sight. Grinning, Julian stretches both arms to either side of his body before firing a finger gun aimed at the ring. He then makes his way to the ring, keeping his eyes on the squared circle while occasionally ignoring the fans, without even looking them in the eye, along the way.
Julian stops right outside the ring, breathes deeply while shaking his hands on his sides, and then without warning jumps up on the apron. He climbs the nearest turnbuckle and stretches both his arms to either side once more. Afterwards, he leaps forward into the ring and rolls through, taking a seat on the balls of his feet against the opposite corner.
Julian stays seated against the corner for a few seconds more before popping back to his feet. He stretches with the nearest ropes' help and waits for the match to officially begin.
Eli: This is Tijerinas first event since winning the Gods of War ladder match and becoming the holder of Pandoras Box!
S: And that box means a title shot anytime, anywhere for up to one year. Sawtooth Grin showed us it can be achieved.
Eli: He has a new attitude here Tijerina since becoming the God of War. I like it!
youtu.be/bSdtvfBQd6c
The lights dim down as Out Of Black by Royal Blood begins to play throughout the arena. The arena erupts with a mix of cheers and boos as Jack Tillman comes walking out with a death stare in his eyes. Concentrated on the match at hand, Jack makes his way down to the ring
TC: From Omaha, Nebraska! Standing at 6 ft 1 and weighing in at 210 pounds! He is Jack "The Ripper" Tillman!
Making it to the steel stairs, he stands for for a few seconds, mentally getting himself ready for the match. As he stands there, the fans behind him begin to chant.
HE IS WRESTLING!.........(clap, clap, clapclapclap)......HE IS WRESTLING!..........(clap, clap, clapclapclap.......HE IS WRESTLING!
The fans continue to chant as Jack places a mouth guard in his mouth and makes his way up the steel steps. Stepping inside the ring, Jack stands in he middle of he ring and makes a throat slash with his thumb as black, white, and red streamers come flying into the ring from the fans. Ring staff quickly begin to collect the streamers as Jack walks over to a corner and gets ready for his match.
DING DING DING
S: Here we go!
Tillman offers a shake of hands, but Julian slaps his hand away before going to his Pandoras Box and kissing it for good luck!
BOOOOOOOOOOOOOOOOOOOOOOOOOOOOOOOOOOOOOOOOOOOOOOOOOOOOOOOO!
Jack wastes no time and hits a massive uppercut that stuns the Spaniard into the corner! Julian is stunned but manages to use his experience to put his head out of the ropes to force a rope break! Jack continues the attack with punches and knees to the gut before throwing Julian into the ropes….But the God of War manages to hold his body in between the ropes and gives a wink to Tillman. Jack goes for the attack but instead Julian dodges and Tillman goes through the ropes and out of the ring! He points his finger to his head before looking for a suicide dive. He dashes towards Jack as he braces for impact, but Tijerina back flips off the ropes and sits in the middle of the ring before sarcastically waiving.
BOOOOOOOOOOOOOOOOOOOOOOOOOOOOOOOOOOOOOOOOOOOOOOOOOOOOOOO!
Eli: Great mind games for Julian!
Jack rolls back in as they clinch up, but Tillman gets his own back with a leg takedown and takes Tijerinas back. He goes for the Recluse submission hold, but Julian rolls him for the pin.
1..
2..
Kick out by Tillman!
This time it's Julian that takes control and sprawls all over Tillman. He slaps his head several times disrespectfully to the crowds dismay. He quickly hits a massive arm drag before shouting for #ArmDragCity. He hits arm drag after arm drag as he goes for the Fujiwara arm bar! But Till man counters with his own roll up pin!
1..
2..
Kick out by Tijerina!
Julian goes for a quick attack, but Tijerina hits a huge belly to belly suplex! Followed by a standing elbow drop! He picks him up and hits another huge belly to belly suplex! He gets a hold of Julians fingers and smiles to the crowd!
…
Finger snap!
OOOOOOOOOOOOOOOHHHHHHHHHHHHHHHHHHHHHHHHHHHHHHHHHHHHHH!
S: That'll hurt in the morning!
Tillman picks up Julian and hits a massive European uppercut that stuns the god of war. He goes to the opposite side and goes for a running spear, but Tijerina jumps and rolls over before countering with his own superkick! He gets a hold of Jack and slams him on the mat.
…
OVERKILL
1…
2..
Kick out by Tillman!
Tijerina grabs him in a headlock as he tries to tire out Jack Tillman. The fans clap to try and get Tillman back in this match as he stamps his foot several times. Despite a tight clinch of the headlock, Jack starts to get to his feet and hits elbows to the gut to break free and go for vicious punches and strikes! He goes for another missile dropkick!
…
But Tijerina counters with the sling blade!
…
Followed by the Frog Splash!
Julian poses while going for the cover!
1..
2..
…
Tillman barely kicks out!
Tijerina says enough is enough and once again goes to the top rope!
…
SHOOTING STAR KNEE DROP!
…
BUT TILLMAN PICKS HIM WITH A MODIFIED KNEE HOLD SUPLEX!
S: WOW!
He gets him up for a quick snap dragon suplex!
1..
2..
…
Julian kicks out!
Tijerina goes for the Kedavra knee!
…
BUT TILLMAN COUNTERS WITH THE SICK ELBOW!
…
FOLLOWED BY THE PENALTY KICK!
1..
2..
…
Julian Barely kicks out!
Eli: He's still in it!
Tillman calls for the Ballroom Blitz. He stamps the ring so Julian can get to his feet. The fans begin to chant for him as he slowly gets up!
…
BALLROOM BLITZ!
NO! TIJERINA DODGES!
…
ROMPIENDO EL HELIO!
HE GOES FOR THE SUPERKICK FINISH!
…
BUT TILLMAN CATCHES HIM WITH THE RECLUSE!
S: HOLY FUCK HE HAS IT IN!
Julian is struggling! He tries to go for the ropes but Jack has it in tight!
TAP! TAP! TAP! TAP!
…
BUT JULIAN ROLLS HIM FOR THE PIN!
1..
2..
JULIAN HOLDS THE ROPES!
3!
…
NO! THE REF SAW IT!
Julian protests to the referee as the hold is broken! He reminds him who the God of War is.
…
BUT AS HE TALKS TO THE REF TILLMAN HITS THE BALLROOM BLITZ!
COVER!
1..
2..
3!
Eli: WHAT?!
S: Massive upset!
DING DING DING
Tillmans hand is raised as Julians eyes are wide open in shock!
TC: Here is your winner….Jack till-
BUT TIJERING SMASHES PANDORAS BOX INTO THE HEAD OF TILLMAN!
BOOOOOOOOOOOOOOOOOOOOOOOOOOOOOOOOOOOOOOOOOOOOOOOOOOO!
S: What a sore loser!
Tijerina is furious. He places pandoras box and moves an unconscious Jack on top of it.
Eli: Uh oh.
…
SHOOTING STAR PRESS ON TOP OF PANDORAS BOX!
BOOOOOOOOOOOOOOOOOO! YOU SUCK! YOU SUCK! YOU SUCK!
Julian gets the mic and orders the crowd to shut up!
JT: I told you all that the old El Guapo is dead. Now resurrected in his place is a new El Guapo much more meaner, deadlier and one Jefe not to fuck with!
BOOOOOOOOOOOOOOOOOOOOOOOOOOOOOOOOOOOOOOOOOOOOOOOO!
JT: I am the God of War. DO YOU KNOW WHAT THAT FUCKING MEANS?! I run this place now! I am the Rey of GOL! And I can change the future by opening this box! You are looking at the next Rey De Reyes champion! And to whoever costs me in this ring. You will pay the price of El Guapo!
Julian looks at the referee and knees him in the stomach!
S: Hey wait a minute!
…
STORMS END ON THE REFEREE!
BOOOOOOOOOOOOOOOOOOOOOOOOOOOOOOOOOOOOOOOOOOOOOOOOO!
Eli: Julian just made a statement here
Medics go to see Tillman and the referee as Tijerina walks away with a smile on his face.
HEY KIDS DO YOU REMEMBER THE LUCHA WORLD CUP?
KIDS: UMM NO?
WELL THAT'S BECAUSE WE LOST THE FUCKING EPISODE TO A HACK
KIDS: AWW
HOWEVER IM HERE TO TELL YOU IT'S BACK!
KIDS: YAY!
FOUR TRIOS TEAMS WILL COMPETE TO BECOME LUCHA WORLD CUP CHAMPIONS!
AND IT'LL TAKE PLACE NOVEMBER AT MUCHA LUCH SENORS!
(YOUTUBE SONG)
ON A BOAT MOTHERFUCKER!!
SO COME CRUISE WITH US, GET FILTHY DRUNK AND ENJOY THIS ONE OFF LUCHA BOATING EXPERIENCE AT MUCHA LUCHA SENORS!
Eli: Never let Dragon back again. Period. I mean on a boat?!
S: That's why GOL stands out amigo!
AMMMMEEEEEEEEEERRRRRRRRRIIIIIIIIIICCCCCCCCCCCCAAAAAAAAAAAA!
BOOOOOOOOOOOOOOOOOOOOOOOOOOOOOOOOOOOOOOOOOOOOOOOOOOOOOOOO!
AMERRRRRRRRRRRRRRIIIIIIIIIIIIIIICCCCCCCCCCCCCCCCCCCAAAAAAAAAAAA!
Born in the USA roars on the P.A system as the American Ultras emerge on the balcony. Sam Washington, El Toro Rodriquez and Lincoln all look like they are out with a purpose.
S: Happy hour has started.
Eli: The Ultras want their title back!
Sam has the microphone.
Sam: Cut the damn music!
BOOOOOOOOOOOOOOOOOOOOOOOOOOOOOOOOOOOOOOOOOOOOOOOOOOOOO!!!
Sam: At Eternal Lucha II, Chaos Dragon and GOL officials robbed us of our Trios titles!
The trio slowly walk down to the ring.
Sam: Under strict rules, a trios title match must have 3 face off against 3. And at Eternal Lucha II Hammerstein was unable to compete. So right away that match should have been called off!
BOOOOOOOOOOOOOOOOOOOOOOOOOOOOOOOOOOOOOOOOOOOOOOOOOOOO!!
Sam: And when Senator Dragon left his post and Tiger Mask Red was left alone. The match should have been stopped and we should have been awarded the victory and therefore retaining our titles!
BOOOOOOOOOOOOOOOOOOOOOOOOOOOOOOOOOOOOOOOOOOOOOOOOOOO!!
Sam: I have lodged an official complaint, demanding that our titles have been reinstated! But no! Those fuckers don't want Americans as champions! Those fuckers don't want real Americans wearing any gold! And instead Tiger Mask Red was given the chance to get partners.
WOOOOOOOOOOOOOOOOOOOOOOOOOOOOOOOOOOOOOOOOOOOOOOOOOO!!
Sam: SHUT UP THAT'S NOT FUCKING GOOD!
BOOOOOOOOOOOOOOOOOOOOOOOOOOOOOOOOOOOOOOOOOOOOOOOOOOO!!
Sam: So our appeal and complaint fell on deafs ears. But we're the ultras. We're ready for war. So we are officially invoking our rematch clause for the trios titles at your stupid Halloween event…The Day of the dead!
BOOOOOOOOOOOOOOOOOOOOOOOOOOOOOOOOOOOOOOOOOOOOOOOOOOOO!!
S: It's called Dia De Los Muertos but I think Sam doesn't like speaking Spanish.
Sam: So coming up shortly, we're gonna show Red what happens when you fuck around with us! El Toro!
Ramon rolls into the ring as he gets ready for the one on one match.
Welcome to the Jungle roars into the P.A system as the fans get on their feet for the new Trios champion Tiger Mask Red. He proudly poses with all three Trios titles. He stares down at the American Ultras look on in disgust. The music cuts as Tiger Mask Red gets his own microphone.
RED! RED! RED!
Red: I know what you all have planned here amigos! I'm going to walk down these stairs. You three will try beat me down and take my titles. Then you will pose over my body and get your own back because I defeated all three of you just by my little self!
WOOOOOOOOOOOOOOOOOOOOOOOOOOOOOOOOOOOOOOOOOOOOOOOOOOOOOOO!
Red: I am Tiger Mask Red. I don't back down. I'll come down and fight you all while I kick that old mans ass in the ring! But I didn't come back alone…
OOOOOOOOOOOOOOOOOOOOOHHHHHHHHHHHHHHHHHHHHHHHHHHHHHHHHHHHH!
Red: You see I was given tonight to find myself partners so I can continue on as trios champion! And that I do have! But rather than introduce them all one by one. I felt that while I come down and kick your ass, they can join the party at the same time!
Red drops the mic as he drops the trios titles and comes down the balcony. The Ultras all look around to see who it is. They exit the ring as they look amongst the crowd!
Eli: Sabrina look!
An injured Jack Tillman gets a hold of Lincoln and hits a massive Dragon suplex! Red storms down and attacks Ramon and Sam!
S: Eli!
KISUKE! Crowd surfs into the ramp and hits a massive missile drop kick onto Sam!
S: We have ourselves a Trio!
Tillman and Kisuke battle the other Ultras while El Toro and Red get into the ring for the start of their match.
DING DING DING.
El Toro goes for the spear, but Red dodges it.
…
…
TIGER DRIVER!
COVER!
1..
2..
3!
S: Easy work!
DING DING DING!
TC: Here is your winner! Tiger Mask Red!
Tiger Mask Red, Kisuke and Jack Tillman all pose in the middle of the ring as Red gives them their Trios titles. They all pose with the belts while the Ultras look on in anger.
…
BUT SUDDENLY THE LIGHTS GO OUT!
S: What's going on?
The lights go back on.
….
…
TO REVEAL DIAZ' CLOWNS BEHIND THE TEAM!
S: Oh my god!
The clowns waste no time and destroy the team of Red, Kisuke and Tillman with the seven foot monster clown "Mr Psycho" grabbing a hold of Red.
…
DOUBLE HANDED SITOUT CHOKESLAM!
The other clowns pass the others to Psycho.
…
DOUBLE CHOKESLAM!
The clowns then turn their attentions to the Trios titles, which begin to irk the American Ultras who soon roll in the confront them.
S: Hey wait a minute?!
OOOOOOOOHHHHHHHHHHHHHHHHHHHHHHHHHHHHHHHHHHH!
YES! YES! YES! YES! YES! YES!
The American Ultras look at each other while looking also at the clowns in disgust before pointing that the trios titles belong to them. They all nod before brawling over the ring!
Eli: The Ultras are fighting the clowns!
S: The fuckers are getting cheered for the first time in near two years!
The Ultras initially the advantage, but Mr Psycho proves too strong and hits a massive lariat to Lincoln! Flipping him in the process. El Toro gets beaten down by the hench clown as Mr Psycho gets a hold of him!
RUNNING POWERSLAM!
The hench clowns grab a hold of Washington as Mr Psycho goes for him.
"WOAH WOAH WOAH!"
Carlos Diaz emerges from his private court.
BOOOOOOOOOOOOOOOOOOOOOOOOOOOOOOOOOOOOOOOOOOOOOOO!
Diaz: Where are my manners? I am so sorry! I forgot to tell you all! You see because the clowns helped me get rid of a certain Dragon and the Heroes, I owed them a favour. And they will get that favour at Dia De Los Muertos. Because I am adding them into the Trios title match!
BOOOOOOOOOOOOOOOOOOOOOOOOOOOOOOOOOOOOOOOOOOOOOOOO!
S: So it's a triple threat match!
Eli: This does not bode well for Reds team and the Ultras!
Diaz: Oh and since you know it's our Halloween program. The trios title match will place….
INSIDE THE CARNIVAL OF DEATH!
OOOOOOOOOOOOOHHHHHHHHHHHHHHHHHHHHHHHHHHHHHHHHHHH!
Eli: The carnival returns for a second year!
S: And Sam knows that match well!
Diaz: Ok now you can take him out Mr Psycho!
…
DOUBLE HANDED SITOUT CHOKESLAM ON SAM!
Diaz' clowns all pose with the trios titles to Carlos who applauds. He raises his glass to them.
…
…
BUT SOMEONE PUSHES DIAZ OFF HIS PRIVATE COURT AND FALLS ONE BALCONY THROUGH FIVE TABLES!
Eli: HOLY SHIT!
The culprit is revealed as.
…
CHAOS DRAGON!
WOOOOOOOOOOOOOOOOOOOOOOOOOOOOOOOOOOOOOOOOOOOOO!
Eli: He fucking killed him!
The clowns storm out of the ring as Dragon gives them the middle finger salute. Diaz's secretary screams in shock as EMT's are rushed straight away to see to Diaz.
S: Oh my god…
The crowd all look on as Paramedics see to the GOL owner.
Eli: Cut the feed!
OCTOBER 2017
THE FINAL SUPERSHOW OF GUERREROS OF LUCHA'S CALENDAR!
LIVE FROM MONTERREY MEXICO!
GOL PRESENTS:
DIA DE LOS MUERTOS!
THE HALLOWEEN SPECTACULAR CANNOT BE MISSED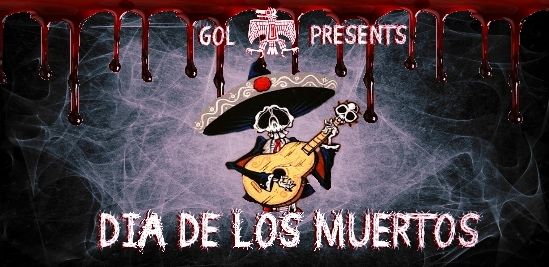 The feed returns to a stunned commentary team.
S: Ladies and gentlemen we are in shock. Carlos Diaz just announced the trios title match will take place inside the Carnival of Death….Only for Chaos Dragon to throw him out of his private court, down one balcony, through five tables.
Eli: Thank fuck for those tables! He could have killed him! Call the local authorities!
The paramedics begin to stretcher Diaz out to the delight of the fans.
NAH NAH NAH NAH! NAH NAH NAH NAH! HEY HEY HEY! GOODBYE!!
Eli: This is disrespectful!
S: This blood rivalry just went up to critical. And I am being told we have a tweet send out by Dragon that reads the following;
"Try to kill me. I repaid the favour. See you at Dia De Los Muertos Bitch!"
Eli: What the fuck could go on next here? I mean seriously?!
DING DING DING
TC: The following Lucha is a Fatal Four Way Match with elimination rules!
WOOOOOOOOOOOOOOOOOOOOOOOOOOOOOOOOOOOOOOOOOOOOOOOOOOOOOOOO!!
The lights cut out and a moment later the music begins, two moments after that a spotlight is cast on the entrance stage to reveal the back of our hero! With his arms outstretched to the heavens, he whips around and he starts pumping his fists in time with the music! The fans happily slap his hands as he jogs down to the ring, rolling into the ring and striking a dramatic pose! With the fans cheering him on he runs over and he leaps up onto the second buckle of the nearest corner, striking another pose!
TC: From The City. EL DESTELLO!
The opening of Mama Said Knock You Out by Five finger Death Punch plays in the arena. Rey Lobo steps out of the curtain, the hood of his vest covering his head. His mentor, Principe Lobo, stands to his side in a silver mask and a dark black suit. Rey looks up at the ring and removes his hood, throwing his arms out to the side
TC: From Bailey. Texas! EL REY LOBO!
As "March of the S.O.D." by S.O.D starts to play, Cobra Negro walks slowly through the curtain, he has an old ring jacket on that looks like it's over twenty years old. Unsure on his legs, he makes his way slowly up the ring steps and through into the ring.
TC: From Tijuana, Baja, California! COBRA NEGRO!
…
"Down" by Otep hits and out walks Julliet Brooks onto the stage to a chorus of cheers from the audience, simply smiling from ear to ear, and continued to walk down the ramp. Once there she claps some fans hands at ringside then runs and slides underneath the ropes, soaking up the positive reaction. After she leans against the ropes and looks toward the entrance way, showing no intimidation to her upcoming opponent
TC: From Alburquerque New Mexico! The GOL Soaring Eagle Champion! JULLIET BROOKS!
Brooks takes the mic.
JB: Right gentlemen. Why don't we make this more interesting? I am a fighting champion so let's put this Soaring Eagle title on the line!!!
WOOOOOOOOOOOOOOOOOOOOOOOOOOOOOOOOOOOOOOOOOOOOOOOOOOOOO!
All three immediately nod to the idea.
TC: The following lucha is now for the Guerreros of Lucha Soaring Eagle Championship!
S: Big call!
Eli: She's not the boss!
DING DING DING!
Cobra Negro hits a massive Lariat that stuns the champion as he goes for the cover!
1..
2..
El Rey Lobo breaks it as the three luchadors stomp down on the champion as they look to take her out of the running at the first hurdle. They throw her out of the ring before they all turn on each other and battle it out for the right to become Soaring Eagle champion!
El Destello hits a massive enzuguiri to stun Negro while Lobo jumps on the ropes for a tilt o whirl hurricanrana! Destello doesn't wait as he hits a huge facebreaker that sends Lobo out of the ring. He goes for the running slide, but Brooks catches him with the ring apron and hits a flurry of punches and headbutts!!
…
BEFORE COBRA NEGRO HITS A MASSIVE FRONT FLIP SPLASH!
HOLY SHIT! HOLY SHIT! HOLY SHIT! HOLY SHIT!
Negro slams Brooks into the steel steps before sending the other two back into the ring. Cobra continues the assault and goes for a powerbomb on Robo, but he holds onto the ropes! Soon El Destello joins in before Brooks goes to the very top!
…
…
AS NEGRO POWERBOMBS ALL THREE!
Eli: WOW!
COVER
1..
2..
KICK OUT BY BROOKS!
Cobra goes for the finish as he picks up Destello for the superplex…But Rey Lobo hits a massive superkick! He and Destello nod as they hit massive strikes to stun Cobra Negro!
…
BEFORE BROOKS HITS THE BUTTERFLY EFFECT!
COVER!
1..
2..
3!
COBRA NEGRO IS ELIMINATED!
El Destello tries to go for a quick suplex on Rey Lobo, but Brooks gets behind them as they all struggle!
…
AND SUPLEXES BOTH LUCHADORS!
S: Power from Brooks!
LETS GO BROOKS! LETS GO BROOKS!
Brooks gets a hold of El Destello!
…
She goes to the top rope
…
AMATERASU!
COVER!
1..
…
2.
…
3!
EL DESTELLO IS ELIMINATED!
BY REY LOBO HITS A QUICK ROLL UP!
1..
2..
…
BROOKS BARELY KICKS OUT!
S: So close to a new champion!
Eli: That almost backfired!
Rey Lobo gets back to his feet for a quick shining wizard!
He sees his chance!
…
FRESH MEAT!
1..
2..
BROOKS KICKS OUT!!
Eli: Julliet is in serious trouble here!
Rey Lobo can't believe it as he almost got the three. He howls to the crowd before making a motion for the great feast! He places Brooks in perfect position as he howls at the top rope.
…
THE GREAT FEAST!
NO! BROOKS COUNTERS!
1..
2..
KICK OUT BY LOBO!
Rey Lobo flips back up to his feet and goes for another attack.
…
BUT BROOKS COUNTERS WITH THE 720 DDT!
S: This could be it.
She roars and beats the ring mat as she goes to the top rope.
S: She's making the motion!
Eli: Roll out while you can Lobo
…
…
…
AMATERASU!
COVER!
1..
2..
…
3!
JULLIET BROOKS RETAINS THE SOARING EAGLE TITLE!
S: She does it!
Eli: Impressive win for the champion in what was much tougher than anticipated!
TC: Here is your winner…AND STILL GOL Soaring Eagle champion! Julliet Brooks!
Brooks is delighted with her win as her arm is raised in victory!
Eli (Live mic): Ahem. Excuse me. Excuse me everyone.
The music is cut as cameras focus on Eli.
Eli: I have just received some news to my ear piece that will regard yourself Julliet. Now Carlos Diaz had plans to come out and tell you, however Chaos Dragon stopped that from happening.
WOOOOOOOOOOOOOOOOOOOOOOOOOOOOOOOOOOOOOOOOOOOOOOOOOOOOOO!
Eli: Never the less, in the event of his attack, he did request all of his plans to be passed on by his team through the commentary team. And thankfully he likes me more!
BOOOOOOOOOOOOOOOOOOOOOOOOOOOOOOOOOOOOOOOOOOOOOOOOOOOOOO!
Eli: At Dia De Los Muertos, you will defend the Soaring Eagle championship again. However it is going to be an open sign up. Which means anyone can take part in your match. It could be 2 or it could be 20….
OOOOOOOOOOOOOOOOOOOOOOOOOOOOOOOHHHHHHHHHHHHHHHHHHHHHHHH!
Eli: Carlos Diaz wants you to prove yourself. Which is why you will defend the Soaring Eagle title….
IN THE COBWEB ESCAPE MATCH!

OOOOOOOOOOOOOOOOOOOOOOOOHHHHHHHHHHHHHHHHHHHHHHHHHHHHHHH!
S: Like the Carnival of Death, the cobweb escape match makes its return!
Eli: And I quote the final sentence…"Prove me wrong."
Julliet wipes away her nose before grabbing the microphone.
JB: You Eli can now have the privilege of telling all of who sign up to take my title that I will kill them. I will kill them all!
WOOOOOOOOOOOOOOOOOOOOOOOOOOOOOOOOOOOOOOOOOOOOOOOOOOO!
JB: Because I'll be damned and dead before I lose this title! Bring on the escape!
Brooks drops the mic before posing with the Soaring Eagle title.
S: Brooks first real test comes next month!
S: Eli I have just had breaking news given to me. Are you ready for this?
Eli: Hit me!
S: It's official for Dia De Lost Muertos. Avery Miles III vs Mohammed Al Thani vs Helena Noir. Number one con tenders match!
Eli: Woah that is big!
DING DING DING
S: Here we go! Main event time!
Eli And this is going to be amazing!
The little guitar intro plays as Honey's name fades in on the screen. As the violin comes in, a few highlights play from Honey's Redemption career. The vocals come in exactly as Honey steps out to the crowd in her yellow ring gear and nods giving an ellegant raise of her arms up to the crowd before turning around to have her hair blow back from a fan as the lyrics "Taste the wind and touch the sky" plays over the sound system. Honey turns back around as the small pipe solo plays and begins to walk with pride in her abilities, modestly skippin down the ring. Honey sways to music and gives the fans in the front row a look over, a cheerful smile and takes the time to hug any kids who came out to see her.
Ring Announcer: She's from Las Vegas Nevada, while also representing Omaha, Nebraska. Weighing in at one-hundred and fourteen pounds, The girl who popularizes Honey-Can-Rana....Honey!
The Crowd then chant "Honey-Can-Rana" and clap five times in rhythm. "Honey-Can-Rana", clap, clap, clap-clap-clap. "Honey-Can-Rana", clap, clap, clap-clap-clap. "Honey-Can-Rana", clap, clap, clap-clap-clap.
Honey gets herself onto the top rope and sits with her back to the ring, closing her eyes and gleefully smiles as she raises her arms up high to touch the sky before gripping the ropes and back rolls onto her feet. Honey flicks her hair back and unzips her Young Cubs hoody. She folds it up neatly before passing it to the referee to put aside for her.
The lights lower and the remaining lights turn to a golden color. "Shoot to Thrill" by Halestorm hits. The crowd explodes into cheers. Amy Jo Smyth steps out onto the stage, her back turned to the crowd, head covered by the hood of her jacket. The golden lights change and simulate a cascade of glitter over her. Smyth spins around on her toes and faces the crowd as a single spotlight falls on her.
I got my gun at the ready gonna fire at will
'Cause I shoot to thrill and I'm ready to kill
I can't get enough and I can't get my fill
Shoot to thrill play to kill
Pull the trigger, pull it
Pull it, pull it
Pull the trigger
She then throws her head back, the hood falling off her head, and arms upward and outward, letting the remaining glittering light wash over her. She slowly makes her way down the ramp, looking over the crowd, giving the occasional high five to a fan with a perfectly placed hand. She reaches the end of the ramp and throws a fist up in the air. The crowd pops.
After a quick moment of listening to the crowd, she rushes forward, slides into the ring, and stands. Smyth unzips her hoodie and spins on her toes with her arms raised. She throws both arms down triggering an explosion of glittering light over the ring.
She strips of her hoodie and passes it off to the nearest person on the outside. The lights come back up but remain golden. In the usual show of her abilities, Smyth bounces off the ropes, cartwheels forward, and performs a standing corkscrew twist that carries over into a butterfly twist. That quickly turns into front handspring that takes her to the center of the ring where she starts a series of backflips. All of that floats into single front handspring where she lands on one hand and performs a single-armed handstand. She comes down and lands in a split.
She pushes herself upward to standing.
The opening keyboard notes of "The Touch" begin on the PA system. Stan Bush's voice rings out and soon the power chords kick in to begin the song. The cameras pan around the arena, and soon, spotted in amongst the fans, is Roxi Johnson slowly making her way through them, slapping the fans five and getting patted on the shoulders as he moves through the swarm of fans. The fans continuing singing with the song as Roxi continues her journey through them, stopping and singing along with them. She treks onward, seemingly greeting every fan, before she is lifted on top of the fans and they crowd surf her towards the ring, imitating a superhero "flying" motion. She makes it and lands on her feet on the arena floor to which she high fives the closest fan before climbing up on the apron and climbing the turnbuckle and raising her arms in the air to massive cheers. She jumps down from the top turnbuckle and lands in the ring, and begins jumping up and down in an exercising manner as the music cuts out.
S: This is going to be awesome!
DING DING DING
TC: The following Lucha is scheduled for one fall and it is for the Guerreros of Lucha Rey De Reyes championship!
WOOOOOOOOOOOOOOOOOOOOOOOOOOOOOOOOOOOOOOOOOOOOOOOOOOOOOOOOO
TC: Introducing first. From Las Vegas Nevada! Honey!
WOOOOOOOOOOOOOOOOOOOOOOOOOOOOOOOOOOOOOOOOOOOOOOOOOOOOOOO!!!
TC: And the other challenger. From The Dirty Jersey. The Good Doctor. Amy-Jo Smyth!!
BOOOOOOOOOOOOOOOOOOOOOOOOOOOOOOOOOOOOOOOOOOOOOOOOOOOOOOO!!!
TC: And their opponents! The undefeated Rey De Reyes champion! Roxi Johnson!
WOOOOOOOOOOOOOOOOOOOOOOOOOOOOOOOOOOOOOOOOOOOOOOOOOOOOOOO!!
Roxi lifts the belt over her head with pride and screams at both opponents!
Eli: The big question here is this. Can anyone stop Roxi Johnson?
S: Undefeated for nearly 14 months. Could it be 15 come Dia De Los Muertos?!
The referee raises the belt over his head as this match gets underway.
DING DING DING
All three are cautious as they approach one another. They take in the atmosphere as the fans get hyped for this event.
THIS IS AWESOME! *CLAPPING* THIS IS AWESOME *CLAPPING*
The three luchadoras collide as this match is now underway. Smyth pushes Honey before going for a massive Southern Charm superkick that results in Johnson doing a Matrix style dodge! She counters with a monkey flip which Smyth lands! Honey bounces off the ropes for a splash, but Roxi dodges and Smyth grabs her by the waist!
…
AND THROWS HER OUT OF THE RING INTO THE CROWD!
S: Holy shit!
Johnson rolls her up!
1..
2..
Kick out by Smyth!
Roxi immediately goes for the Justice lock by Smyth counters by lifting her up and converting it into a sidewalk backbreaker! Cover;
1..
2..
Kick out by Johnson!
Eli: Hey wait a minute!!!
The fans are lifting Honey over their shoulders and crowd surfing her back to the ring. Amy-Jo gets half way out of the ring to protest.
…
BUT HONEY HITS A MASSIVE SHOOTING STAR DDT!
Eli: Fuck me!
Roxi hits a massive beautiful disaster kick on Honey from the top rope that sends her crashing out too. She sees her chance and hits a thunderous corkscrew moonsault on top of her challengers!
S: This is how you start a Rey De Reyes title match!
The champion wastes no time as she eyes up Smyth. See steps several paces back.
…
AND SPEARS AMY-JO SMYTH!
NO! SHE DODGES AND ROXI SPEARS HONEY THROUGH THE GUARD RAIL!
Amy-Jo takes her chance and hits a massive pumphandle suplex onto the steel chairs fans were sitting on! The fight goes into the crowd as Smyth attacks the champion.
S: Oh fuck they're coming here.
Eli: Don't let them come here!
Smyth grabs a steel chair and smashes it over the back of Roxi who roars in pain. She then sees a ladder and begins crushing Johnson's ribs with the end of the ladder before smashing her face in with it. She drops the ladder and eyes up the announce table.
OOOOOOOOOOOOOOOOOOOOOOOOOOOOHHHHHHHHHHHHHHHHHHHHHHHHHHHHHH
S: Oh shit….
The announcers move out of the way as Smyth clears the table and removes the monitors. She grabs the ladder and places it below the table. Amy-Jo then gets a hold of Johnson and drags her to the top of the positioned ladder.
Eli: This isn't going to end well!
Johnson gets some spark back in her as she battles to avoid getting thrown through the announce from the ladder. The pair punch and headbutt one another to avoid the devastating fall until Honey storms and climbs up to the ladder to fight both women off! She gets a hold of them!
…
AND DOUBLE SUPLEXES JOHNSON & SMYTH OFF THE LADDER THROUGH THE ANNOUNCE TABLE!
HOLY SHIT! HOLY SHIT! HOLY SHIT! HOLY SHIT! HOLY SHIT!
All three women are out cold as road agents come in to check on them.
Eli: My new suit now has soda stains on it!
S: This main event has gone nuts!
All three begin to slowly get up. Honey is the first while Smyth needs to use Eli's office chair to force herself up. Johnson struggles as she slowly gets to her knees.
BUT SMYTH SMASHES HONEY IN BY THROWING THE OFFICE CHAIR AT HER FULL FORCE!
Amy-Jo gets a hold and tries to go for another pumphandle suplex, but the champion blocks it and counters with a huge brainbuster onto the fans chairs!
S: This is a fucking war!
Johnson drags a bloodied Smyth to the ring and slowly rolls her in as she too takes a breather. She rolls herself in the ring and goes for the cover!
…
BUT AMY-JO LOCKS IN THE EAT ME OUT!
OOOOOOOOOOOOOOOOOOOOOOOOOOOOOOOOOOOHHHHHHHHHHHHHHHHHHHHHH!
Eli: She has it locked in! Could this be the end?!
S: Is the streak going to end tonight?
Smyth has it locked in tight as Roxi struggles to breath. She has her fist clenched as she refuses to give in. However out of sight Honey gets to the top rope!
…
AND HITS A ELBOW INTO AN ANACONDA VICE ON SMYTH!
S: WOW!
Two submissions are in! who can survive?! The fans are off their seats as they see what happens with Smyth and Johnson completely struggling.
…
JOHNSON GETS THE FOOT TO THE ROPES!
Honey makes the quick cover!
1..
2..
Kick out by Smyth!
Honey is on top as continues the assault with a massive backstabber to Johnson! She flips back to her feet and roars out loud! She makes the motion to Smyth. Amy-Jo slowly gets to her feet as Honey gets ready!
…
HONEYS ULTIMAGIC!
BUT SMYTH COUNTERS IT INTO AN ARMDRAG!
…
JOHNSON SMASHES HONEYS FACE IN WITH A SUPERKICK WHEN SHE ROLLS UP!
1..
2..
…
SMYTH BREAKS THE COUNT IN TIME!
Eli: This is insane!
All three women are out as fans applaud standing!
THIS IS WRESTLING *CLAPPING* THIS IS WRESTLING *CLAPPING*
All three are on their knees and begin beating one another down with punches and headbutts. Honey is on the receiving end of a nasty headbutt from Smyth that busts her open the hard way. Smyth goes for another Eat me out on Johnson but the champion lifts her up and counters with the blue thunder powerbomb!
1..
2..
Honey breaks the count with a running knee to Johnsons face!
1..
2..
…
3!
NO! Smyth breaks it in the nick of time!
Honey goes for the bulldog but Smyth grabs some hair and slams her down onto the hard ring mat. She hits a standing moonsault before dragging her in position and going to the top rope.
…
SQUASHED FROG!
…
NO HONEY HAD THE KNEES UP!
AND COUNTERS WITH THAT BANNED MOVE!
1..
2..
…
3!
NO! ROXI BREAKS THE COUNT!
All three women soon get to their feet as the champion sees her chance.
…
RAY OF HOPE!
…
SMYTH DODGES AND IT HITS HONEY INSTEAD!
…
SOUTHERN CHARM!
…
FOLLOWED BY THE SQUASHED FROG!
1..
2..
…
3!
…
NO! ROXI KICKS OUT!
S: How the fuck did she manage that?!
Eli: She's immortal! Has to be!
Smyth bites her hand as she can't believe she hasn't won the title. She puts her head through her hair before complaining to the referee. She makes a cut throat sign as she goes for the finish. Roxi is out and needs to be dragged up to her feet.
…
FLYING FUCK IN THE MIDDLE OF THE RING!
S: Oh this is tight!
Eli: She doesn't have the energy to move!
Johnson is struggling as Amy-Jo screams in determination. The referee goes to see how Roxi is but she is slowly passing out!
S: She's fucking fading Eli!
Johnson goes out due to the sheer pain and the ref begins to raise her arm.
ONE…..GOES DOWN!
TWO…ARM GOES DOWN!
Eli: No way!
THREE!
….
HONEY STOPS THE COUNT IN TIME WITH A FROG SPLASH!
Eli: Honey may have cost Amy-Jo the title!!!
…
HONEYS ULTIMAGIC!
BUT SMYTHS FOOT IS ON THE ROPE FORCING THE SUBMISSION BREAK!
S: All three women so close to winning!
Eli: I'm going to have a fucking heart attack!
Honey goes for Amy-Jo again but she gets a thumb to the eye with the ref not seeing the illegal move.
BOOOOOOOOOOOOOOOOOOOOOOOOOOOOOOOOOOOOOOOOOOOOOOOOOOOOOO!
Amy-Jo: You have cost me for the last time!
She drags Honey into the corner and begins to lift her up for a top rope piledriver.
OOOOOOOOOOOOOOHHHHHHHHHHHHHHHHHHHHHHHHHHHHHHHHHHHHHHHHHHH!!
Smyth goes for the piledriver;
…
BUT JOHNSON JUMPS TO THE TOP ROPE TO HITS A WHIP/HURRICANRANA COUNTER!
…
RAY OF HOPE TO SMYTH!
Honey goes for the Busaiku knee kick!
…
BUT JOHNSON COUNTERS WITH THE SWINGING NECKBREAKER!
…
SUPERHERO MOONSAULT!
She roars out loud as she looks for the final killshot!
…
…
RAY OF HOPE TO HONEY!
COVER!
1..
…
2..
…
3!
ROXI JOHNSON RETAINS!
DING DING DING!
S: What a main event!
TC: Here is your winner…And STILL Rey De Reyes champion! ROXI-
…
BUT JULIAN TIJERINA PULLS HER FROM THE RING AND SMASHES HER SKULL IN WITH PANDORAS BOX!
BOOOOOOOOOOOOOOOOOOOOOOOOOOOOOOOOOOOOOOOOOOOOOOOOOOOOO!
AND AMY-JO GRABS HONEY FROM BEHIND AND HITS A MASSIVE PILEDRIVER!
BOOOOOOOOOOOOOOOOOOOOOOOOOOOOOOOOOOOOOOOOOOOO!
She grabs a steel chair and throws it into the ring followed by another one! She gets a microphone and calmly gets in the ring.
S: What the hell is this about.
She smashes the steel chair into the back of Honey who roars in pain.
Amy-Jo: I am sick and tired of you! I am sick of you being a thorn in my side for months on end!
BOOOOOOOOOOOOOOOOOOOOOOOOOOOOOOOOOOOOOOOOOOOOOOOOOOOO!
Amy-Jo: You made a mockery of the Super Falcon Cup! You embarrass me in what should have been the best day of my career by making a co-holder of that cup! You cost tonight on several occasions the chance to win this title. I've had had it!
BOOOOOOOOOOOOOOOOOOOOOOOOOOOOOOOOOOOOOOOOOOOOOOOOOOOO!
Amy-Jo: This feud ends at Dia De Los Muertos. I am challenging you to a match where I have ALWAYS wanted to see you be in. I will end your career and I will become the ruler of all the luchadoras in Guerreros of Lucha.
BOOOOOOOOOOOOOOOOOOOOOOOOOOOOOOOOOOOOOOOOOOOOOOOOOOOOO!
Amy-Jo: And if you have any guts, you'll fight me in this match!
….
Amy-Jo: Witness come October GOL fans your new heroes demise. Because I will finish her once and for all!
….
…
Amy-Jo: IN AN AMBULANCE MATCH!
She drops the mic before sorting out the chairs standing and lifting her up again.
S: Oh god no!
…
PILEDRIVER INTO THE STEEL CHAIRS!
Tijerina applauds before Smyth allows him to take over as he continues to beat down a busted wide-open Johnson on the outside.
…
AND HANDS OVER PANDORAS BOX TO THE REFEREE.
OOOOOOOOOOOOOOOOOHHHHHHHHHHHHHHHHHHHHHHHHHHHHHHHHHHH!
Eli: He's going to open pandoras box!
JT: Now that is one woman you don't wanna fuck with. But you know who you shouldn't mess with period….THE GOD OF WAR!
Tijerina smashes pandoras Box into the chest of Johnson.
JT: If I am going to show the world that El Guapo is legitimate then I have to do something that no other lucha has done before……End your streak!
He pulls pandoras box away from the referee.
BOOOOOOOOOOOOOOOOOOOOOOOOOOOOOOOOOOOOOOOOOOOOOOOOOOOOOOOOO!
JT: At Dia De Los Muertos El Guapo shock the whole fedding world by defeating the one who they call "La Immortale." I will open Pandoras box and become the new Rey De Reyes champion! But unlike Grin, I will give you notice! I will beat you fair and square!
…
STORMS END ON JOHNSON ON THE CONCRETE GROUND!
Tijerina poses with pandoras box on top of Johnson as this show comes to a close!