Post by luchakiller on May 9, 2018 22:52:30 GMT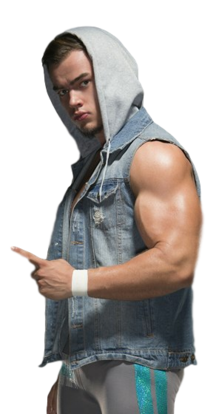 1-Personal
Your Name:Grant
Your email: I don't want it public but PMs are the best way to talk to me
Facebook Link: N/A
Twitter Link: N/A
2-Your Fighter
Wrestler's Name: Grant Hailo
Nickname(s): "The Lucha Killer", "The Experiment"
Gimmick: Young, cocky upstart who finds that he is above the Lucha style and respect so much that he decided to show off in front of the lucha fans
Height: 5'11"
Weight: 203 lb.
Place of Birth: Montreal, Quebec, Canada
Alignment (Tecnicos, Rudos or Neutral) : Rudo
Team (tag, trios or stable) : N/A (but open for teams and trios)
Picture Base: Austin Theory
Appearance/Attire:
In ring- Gray tights with Grant on one leg and Hailo on the other and "The Experiment" on the butt
During entrance- Denim hoodie with a shirt that says "Lucha Killer" on it with a bloody luchadores mask on it
Theme Music: "The Handler" Muse
Entrance: "The Handler" starts up and Grant walks out, when the drums pick up, with his hood down and his head down. He throws the hood up and smirks at the fans who are booing him, then his "handler" Cynthia Markum forces two security guards to carry him on their shoulders to the ring, once he gets to the ring he steps onto the apron and gets into the ring and gets on his knees and taunts, then Markum motions for him to rise.
Primary Style: Technical
Secondary Style (if wrestler has one): Highflying
Strengths:
Smart with his cheating
Silver tongued so he's good at breaking people down vocally
Does any unmoral thing to win even if it's not illegal in the match
Weaknesses:
Cocky little shit who'll run his mouth at the wrong time
Will always try to do anything to one up anyone in the match
Sometimes cheats at the wrong time
Favourite Moves:
Back kick, to an oncoming opponent
Belly-to-back suplex
Corner foot choke
Crossbody
Double axe handle
Flying forearm smash
Front chancery submission
Headbutt
Hair-pull mat slam followed by a standing double stomp
Roll-up, sometimes out of a corner
Russian legsweep
Lifting facebuster, sometimes onto the top turnbuckle
Spinning side kick
Snapmare, followed by a shoot kick to the back of the opponent
Trademark Move(s) and Description(s): (5 Max)
Welcome to Canada ~Spinning Side Slam~
Hysteria ~Superkick~
Go Home ~Falcon Arrow~
Finisher(s) and Description: (2 max)
The Lucha Killer ~Standing cross-legged surfboard followed by a head stomp then transitioned into an arm trap cross-legged STF ~
3-Managers
Do you have a Manager:
Manger(s) Name(s): Cynthia Markum
Manager(s) Pic Base(s): Taeler Hendrix
A Bio if you have a manager: She is the self proclaimed Handler of Grant, she is vicious, merciless, joyless, and angry. She only wants one thing and that's victory.