Post by El Propietario de GOL! on Feb 28, 2017 20:49:00 GMT
The night time has come in on the streets of Los Angeles. You are looking at this first tense so it's like you literally watching this from your own eyes. Outside this rundown building that looks like it is beginning to rust and needs renovation are a group of fans that are outside smoking. A few are wearing masks while there is one particular guy that is the source of the humour. You are walking towards the group to which the closer you get you see the group smoking recreational drugs. The one main guys turns around and sees you and immediately chucks the spliff and breathes out quickly, coughing afterwards. He puts the quills on his mask behind him as he begins to address you.
"Oh you're back again! Awesome! You're becoming a fucking regular now its great to see! Well what are you waiting for let's get you inside dude!
He invites you in as the doors are opened by Hispanic bouncers. You pull your ticket out from your wallet and hand it over to staff who scan it and stub it for you.
"Best of luck again Dragon."
"Thanks darling! My magic dragon is waiting for you after like last time!!!"
He winks at the female staff member before looking at you and waves you to come up the stairs; you see the masks again and see how there are so many of them.
"This is our wall of respect. A lot of brothers and sisters have been lost sacrificing their lives for Lucha Libre and pro wrestling. We put their masks on the walls as a sign of respect and appreciation for what they have done."
You are handed a beer by bar staff.
"Sadly the beer isn't free anymore, but we managed to get all booze cheap and get the fans cheerful! Oh don't tell Diaz but we have a inside betting bookies in one of the rooms here! Good way to make some money! Feel free to visit their anytime!"
You get to the top of the stairs and see fans drinking and having a good time. You hear really heavy music as Dragon continues to talk to you.
"So you should know about us right now. We have a top tier with a balcony and a stand that leads to the bottom bit where the ring is. Bars are on both floors, that's important. There's food carts available too. You know now the Luchadors and Luchadoras come through that door over there and then down the stairs at the other side and then walk down stairs through the crowd! We can fit about a thousand. Again all we ask is you respect those that deserve respect, but you can shove the dicks though! Oh we better give you a better view!"
Dragon opens the door to let you through and you are once again in awe of the energy of the labyrinth. You see on the left a heavy metal band playing really heavy music as the fans chant loud, waiting for the show to start! You see the sold out labyrinth with fans chanting and singing having a great time.
"We show up here once a month, have one MASSIVELY AWESOME time and leave. You guys are our priority! We have luchadors, luchadoras and international talent. They bust their asses for you for your moneys worth so give them a cheer! "
You see Dragon climbing over the barricade of the upper balcony. The fans see him and scream in support for him.
"ARE YOU GUYS FUCKING READY FOR SOME LUCHA LIBRE ACTION!"
YEEEEEEEEEEEEAAAAAAAAAAAAAHHHHHHHHHHHH!
Dragon turns to you and gives a thumbs up.
"So what are we waiting for? Get your seat, sit down and prepare to PARTY!!!"
Chaos Dragon jumps off from the barricade and drops right into the fans! They crowd surf him as Chapter Nuerve: Because I got high commences! The heavy metal music gets louder as the camera pans all of the fans and then right on to our commentators of GOL; Luchadora Sabrina and colour commentator Eli Buchanan.
S: The second show of 2017 right here in the Labyrinth commences! Welcome everyone to chapter nuerve! I am your host with the most, Sabrina! And of course, with me is my colleague. The always happy as fuck Eli Buchanan.
EB: Welcome everyone. It is the last stop before El Gran Anniversario. So much on the line tonight. And for our luchas, it is the last chance to make that impact before the one year show!
S: And of course, Dragon is already in the ring. Back after being suspended by Carlos Diaz in January. What on earth is going to happen tonight.
Chaos Dragon gets the mic as the fans cheers his name.
Dragon: It's great to be fucking back!
WOOOOOOOOOOOOOOOOOOOOOOOOOOOOOOOOOOOOOOOO!
Dragon: But let's not waste time. Ladies and gentlemen. Requesting some time, Helena Noir!
"Noir" by Shandon starts playing softly in the Arena as the lights dim out. The tron is showing closeups of some of the tattoo covering Helena's body. The volume of the song starts growing louder as it approaches the chorus. As soon as it starts, the words "Never fear to suffer" pop up on the tron, while blinding lights pierce the darkness covering the entrance ramp. She enters the ring as Dragon welcomes her in. She is handed the mic as the crowd cheer her own.
NOIR! NOIR! NOIR! NOIR!
She nods in appreciation.
Noir: Tonight, marks the biggest night of my career here in Guerreros of Lucha. I get an opportunity at the Rey De Reyes title shot.
WOOOOOOOOOOOOOOOOOOOOOOOOOOOOOOOOOOOOOOOO
Noir: As much as I am delighted. I can't help but feel a little sad. And that is because this match cements the end of a very long friendship!
BOOOOOOOOOOOOOOOOOOOOOOOOOOOOOOOOOOOOOOOO!
Noir: Rosario and I were like familia. Part of the very successful team The Revenants. There was nothing that could have stopped us. We were like blood. Well at least I thought we were. Until Carlos Diaz turned his mind.
BOOOOOOOOOOOOOOOOOOOOOOOOOOOOOOOOOOOOOOOO!
Noir: Diaz has turned Rosario from a brother to an enemy. And nor do I regret costing him the belt last month! Because Rosario should fucking know by now that not hell have fury than a woman's wrath!
WOOOOOOOOOOOOOOOOOOOOOOOOOOOOOOOOOOOOOOOOO!
"Oh boo fucking hoo!"
Rosario emerges on the top of the balcony along with GOL owner Carlos Diaz. Diaz applauds in support as Rosario takes the lead.
Rosario: You always were jealous of me. You were jealous of my talent, my skills, my exposure and everything that made me El Gran Jefe. You know why I haven't reached the top? Because of the Revenants! You weren't a familia. You were a burden!
OOOOOOOOOOOOOOOOOOHHHHHHHHHHHHHHHHHHHHHHHHHHH!
Rosario: For fucking YEARS I have been looking to achieve my dreams of making it to the top of fedding. And now through the guidance of Carlos Diaz, I can finally be "The Next Big Thing" in fedding. All I had to do was shed some weight!
Diaz grabs the mic.
CD: Because El Gran Jefe is the next big thing of GOL! He will win the Rey De Reyes championship tonight! And he will led GOL to greatness!
BOOOOOOOOOOOOOOOOOOOOOOOOOOOOOOOOOOOOOOOO!
Dragon: I'm sorry I stopped listening because of the cocks you were sucking.
The fans laugh.
Dragon: Because you suck overall!
YOU SUCK YOU SUCK YOU SUCK!
CD: Name call me all you want! The future is imminent. The future is Diaz and Rosario!
BOOOOOOOOOOOOOOOOOOOOOOOOOOOOOOOOOOOOOOOO!
Helena snatches the mic.
Noir: So this is who you left your familia for? A corporate dick who promised you a big paycheck and nice suit? ARE YOU FUCKING KIDDING ME?
BOOOOOOOOOOOOOOOOOOOOOOOOOOOOOOOOOOOOOOOOOO!
Noir: You know what? I'm glad….I'm glad I've seen the real you. It'll be an honour to end your career! March 26th. El Gran Anniversario! Helena Noir. Mano e Mano! Against you Mother fucker!
WOOOOOOOOOOOOOOOOOOOOOOOOOOOOOOOOOOOOOOOOO!
Rosario smirks.
Rosario: You're on!!
S: Wow!
EB: Big match for the one year anniversary show.
CD: And you will have Carlos Diaz in your corner Jefe!
Dragon: While this chaotic lover will be in Noirs!
WOOOOOOOOOOOOOOOOOOOOOOOOOOOOOOOOOOOOOOOOO!
Dragon: But why don't we add something a little special? We need a Super Falcon Cup participant. As GM I am adding this. The winner of Rosario/Noir will be GOL's representive at the Super Falcon Cup!
WOOOOOOOOOOOOOOOOOOOOOOOOOOOOOOOOOOOOOOOOOO!!
The music plays as the four square at each other.
S: Massive developments already! Noir vs Rosario is on at El Gran Anniversario. GM and Owner in a corner. Winner goes to the Super Falcon Cup!
EB: You're gonna need more than a ring to contain them all!
……….
DING DING DING
TC: The following Lucha is scheduled for one fall! Making his way to the ring, from--

: Ahem!
Terri is interrupted by another woman's voice on another microphone.
S: What's this about?
Emerging from behind the curtain is Haley, the wife and manager of the announced match's first competitor. Strutting from one side of the entrance ramp to the other as jeers and boos begin to build, she smiles.
H: --from Orlando, Florida, weighing in at one hundred and eighty-six pounds... The Prodigy, The Death Dealer: Joey LeClair!
'Ready for This' by All Good Things begins playing throughout the Labyrinth and Joey LeClair comes out to a chorus of boos. He embraces his wife, and they share a kiss before they make their way down to the ring.
S: The Labyrinth making it awfully clear how they feel about Joey and his main squeeze here...
EB: They can keep crying all they'd like. Look at what Joey's done at the Christmas Brawl alone; he made it clear that he's not the kind of guy to take lightly.
As they reach the ring, Joey walks up the steel steps and gets in, while his wife stays at ring side.
S: Why do I get the feeling she's not going to stay put...
EB: What, you jealous?
TC: And his opponent, from Texas's 37th District, weighing in at two hundred and twelve pounds: Congressman Dragón!
The four ruffles and flourishes of 'Hail to the Chief's fanfare resound through the venue, and the official Seal of the United States Congress superimposed over a billowing American flag appears on screen.
EB: Give me a break...
The seal burns away in a flash of fire, revealing a #DRAGON2016 campaign banner, and the music smoothly shifts into Bun B's 'The Inauguration'.
Clad in suit, tie, and luchador mask, out comes Congressman Dragón, waving to the crowd and raising Victory V fingers. He confidently strides down to the ring, occasionally stopping for high fives, handshakes, and selfies with the audience, handing out #DRAGON2016 and DRAGON FOR CONGRESS stickers along the way.
S: Here's a luchador you don't see every day. Dragón Diamante's created quite the buzz, coming to Guerreros of Lucha.
EB: Doesn't he have better things to do? Like help run this crapsack country?
Dragón clambers up the ring steps, vaulting himself over the top rope. He takes to center-ring, before tearing away his suit (Cesaro-style) to reveal his bare chest and wrestling tights. Dragón raises a pair of Victory V's one more time, before taking to his corner to prepare for the match ahead.
S: How do you feel about this match-up, Eli?
EB: Let's just say I'm looking forward to Joey earning his 'Death Dealer' nickname.
S: Isn't it a felony to threaten a member of Congress?
DING DING
The match begins, and the two competitors circle each other, the tension building between the two newcomers to GoL and the eager crowd. As the two get closer, Dragón is the first two approach... by lowering his guard, and offering a handshake to his opponent.
EB: Bad call.
S: You don't know that--
--which Joey rebukes with a slap across Dragón's face. He spits on the luchador's boot, and growls something threatening and explicit.
EB: Case in point.
Despite this dishonorable introduction, Dragón keeps is cool, and takes a readied position. He offers his hands up to LeClair, once again going the high road by trying to initiate the classic test of strength. Joey approaches cautiously, slowly interlocking his fingers with Dragón's... then going low, shoulder checking the luchador to the mat and striking him about the head with a few stiff forearms shots. He looks to put Dragón in a headlock, but the veteran performer slips out from beneath his smaller opponent, catching his arm and twisting into a hammerlock behind him. Dragón forces LeClair to his feet, arm still trapped, and lets his own momentum release him when Joey swings a wild fist by his head.
S: Look's like Dragón's still got it!
EB: I don't know if he ever had it in the first place...
As Joey creates some distance, his wife cheering him on from their corner, Dragón starts a clap, which the audience indulgently takes.
EB: It's common knowledge that luchadores sustain themselves entirely off of rhythmic clapping and high spots.
S: Like Tinkerbell?
EB: Not really. I stopped believing in this guy the moment he tore off his suit like a Chippendales dancer, but he's still alive.
When Joey and Dragón approach again, they're quick to lock up at the collar and elbow, struggling to stay their ground. Joey's the first to turn the tables in his favor, launching a few knees into the midsection of Dragón, loosening the luchador's grasp on him. He traps him in a headlock once again, and looks to overtake him over the shoulder--
--but Dragón slips out mid-maneuver, dashing to the ropes and rebounding!
EB: Pretty spry, for an old-timer.
Dragón collides with LeClair, who stands his ground, daring Dragón to try it again. So, Dragón does, rebounding off the ropes a second time... only for LeClair to stay standing for a second time, getting directly in Dragón's face. Among the harsh words exchanged between the two, one from Joey sounds like "too old for this".
For a third time, Dragón rebounds off the ropes... but this time, Joey drops down and Dragón follows through, rebounding off the opposite side! Joey leapfrogs the incoming Dragón, who catches himself on the ropes before he can bound off of them once again--and gets dumped over the side by a stiff Running Clothesline!
S: Joey's not pulling any punches! This isn't going to be easy for Dragón.
As Dragón collects himself outside the ring, lifting himself upright with the help of the apron, the boos rain down on Joey as he taunts his opponent and the crowd along with his wife. He stomps on Dragón's hand resting on the apron to boot, drawing further ire from the Labyrinth. Dragón clutches his fingers, turning his back for a moment... just enough time for Joey to slide under the ropes and try for another Clothesline! This time, Dragón ducks it, booting Joey in the back and sliding back into the ring himself.
With Joey enraged and distracted, making his way to his wife for her managerial consultation, Dragón looks to the crowd, hyping them up, and makes for the ropes to rebound off...
S: Uh-oh, this could spell trouble for the LeClairs--
--and catches his feet off the second rope when Joey pushes Haley in the path of what could have been a devastating dive, flipping backward and landing gracefully on his feet! The crowd applauds the quick save and surprising agility, and Dragón beckons Joey back into the ring, daring him to continue.
With the intensity of a prowling predator, Joey clambers back into the ring, eager to keep the fight going. This time, he presses the offensive, taking a wide swing at Dragón, who ducks-- but gets caught with a swift kick to the gut, the younger and quicker man taking advantage. He lays into his opponent further, clubbing him with forearms and strikes about the head, driving him against the ropes. With Dragón at his mercy, he lays a hard chop into the veteran's bare chest, eliciting some 'Wooooo's from the crowd, amidst the boos.
Before the ref can break the onslaught with a five count, Joey Irish Whips Dragón off the ropes--
--but Dragón holds on, reversing the Whip in his own favor! Joey rebounds, and Dragón leaps to catch him with a Crossbody! He covers!
ONE!
TWO--Joey kicks out with a vengeance, shoving Dragón off of him!
S: A quick kick out from Joey there. Looks like he's just getting warmed up...
EB: It's gonna take more than that to take an asskicker like him down.
Joey proves Eli's point as he rises to his feet before Dragón, kicking him in the gut and clubbing him over the head. He throws Dragón's arm over his shoulder, readying him into a suplex position!
EB: LeClair could be going for Brain Damage! This could be over right here!
Joey lifts Dragón up for his Vertical Drop Brainbuster, holding him overhead for a moment or two... enough time for Dragón to struggle out, flipping onto his feet behind him and dragging LeClair into a schoolboy!
ONE!
Before the referee can continue the count, Dragón releases Joey from the pin attempt, allowing his infuriated opponent to roll through and rise up--
--into an Enzuigiri by Dragón!
The crowd cheers as the luchador regains momentum, pumping the crowd up as Joey slowly picks himself back onto his feet, staggering dizzily...
EB: Get your head on straight kid, c'mon!
S: Looks like Joey's set himself up for Dragón!
Dragón slides into the corner opposite the shaken LeClair, sizing him up in a square between two intersecting hands. He dashes forward and hits him into the turnbuckles with the 2nd Amendment, his signature Missile Dropkick!
S: Nearly split him in half with that one!
Dragón rolls back to his feet, running back to his corner as Joey sits slumped against the turnbuckle. Offering the the crowd a pair of Victory V's, he runs toward the prone LeClair again-- and flips into a Shooting Star right into the corner!
S: Shooting Star... headbutt... senton... in the... what the hell do you call that?
EB: He calls it the Alamo Cannonball. I call it a good way to break your damn neck...
With the crowd going wild for the luchador's unique spots, Dragón drags Joey out from the corner, covering again and hooking the leg!
ONE!
TWO!
THREE?
But no count comes, as Haley has distracted the referee by dragging him away by the foot before he can finish the count!
S: C'mon! What the hell is this?!
EB: Stand by your maaan~
S: Your singing voice needs work.
EB: So does your commentating.
The ref springs up, outraged, chastising the non-combatant for her interference as she tries to justify herself... giving Joey enough time to recover, and nail Dragón with a blatant low blow! Dropping his opponent, the younger man bludgeons the luchador with blatant punches to the face, making his displeasure well known.
By the time the ref has turned around, Joey has staggered to his feet, dragging Dragón with him. Getting some air back in his lungs, Joey spitefully signals for the end, launching Dragón against the ropes, and launching himself against the ropes on the adjacent side.
EB: This is it! He's going for the Death Dealer!
Joey rebounds with a discus roll, meeting his opponent halfway for his devastating Rolling Elbow Smash--
--which Dragón ducks, catches Joey in a Full Nelson, and spikes him overhead for a snap Dragon Suplex!
S: Now that is it! That's his finishing maneuver!
Dragón, however, doesn't go for the bridge or the pin, signalling Victory V's to the crowd once again. He lifts Joey up to his feet, hooks his arm, and lifts him for a Vertical Suplex... and drops him right into a Knee Strike to the head!
EB: What do you call that?
S: That's a new one! I think he calls it the Filibuster!
EB: Of course he does...
Joey falls spread eagle on his back, and Dragón falls on him breathlessly for the cover!
ONE!
TWO!
THREE!
DING DING DING
TC: And your winner... Congressman Dragón!
S: What a first impression by the Diamond Dragon! What a show of force by Joey LeClair!
EB: Fake news! SAD!
S: Eli... let's not.
As the referee raises the exhausted Dragón's hand, Joey clutches his head, storming back up the ramp with Haley at his tail, attempting in vain to console her raging husband.
S: Now, Dragón's going to show the world what he is capable of at the La Azteca Rumble!
------------------------
DING DING DING
TC: The following Lucha is a trios elimination match! Where the winners will face the Outliars for the Guerreros of Lucha Trios Titles at El Gran Anniversario!
WOOOOOOOOOOOOOOOOOOOOOOOOOOOOOOOOOOOOOOOOOOOOOOOOO!
The labyrinth lights begin to flicker as "Sirius" hits the PA system. '?¿?' flashes across the videotron as the lights go out. There's a loud cheer as a blue spotlight focuses on the top of the rampway to reveal Anônimo. His head is down, showing the top of his hat as smoke bellows from the pipe sealed between his lips. He raises his head and walks down the ramp, as the music builds with momentum, making his way forwards staring straight towards the ring. He heads past the fans who pat his back, climbs under the steps, into the ring and heads over to his corner to await his partners.
TC: From Parts Unknown! ANONIMO!
Just One Fix by Ministry plays over the air and the labyrinth explodes into a frenzy as Dirk steps out from the black curtain and slowly begins to walk down the ramp. He stops momentarily to glare at a fan that has a "Dirk is a drug addict" sign, but he shrugs it off and fistbumps another fan. Dirk climbs the black steel steps and enters the ring, throwing his arms out wide and smiling.
TC: From Dallas Texas! DIRK DRESDEN!
"The Rockafeller Skank" by Fatboy Slim begins and almost strobelike, the graphic "STRAIGHT OUTTA WHYNOT" flashes across the tron before slowing down. Smoke and fog begins billowing up from the stage as Hammerstein barrels out, crashing onto the stage. The fans laugh as Hammerstein gets up, dusts himself off and smiles. He leans down to fist bump some fans and nearly falls off the ramp in the process. He rushes to the ring, baseball sliding under the bottom rope, and losing his shades in the process. He picks up his shades, wipes them off and puts them back on before trying to jump onto the second turnbuckle, but can't quite make it. Instead, he puts one foot up there and the other on the bottom before throwing both up to the cheers of the fans.
TC: From Whynot, Mississippi! HAMMERSTIEN!
Hammerstien gets the biggest reaction from the crowd tonight!
S: This match came about due to the Ultras attacking these three-last month. The winner goes on for a trios title shot!
EB: These guys have no chance!
AMERICA!
….
AMERICA!
Born in the USA is played out as Sam Washington leads out Lincoln and Rodriquez i.e the American Ultras down the labyrinth. The crowd boo loud but the American War Machine doesn't care one bit.
TC: And their opponents. Sam Washington, Lincoln and Ramon El Torro Rodriquez….THE AMERICAN ULTRAS!
EB: Would we ever have thought we'd see a sight like this Sabrina? El Torro in action WITH the ultras?
S: Have to admit that I didn't think that at all!
The ultras go to their corner as " El Torro" asserts that he will start.
DING DING DING
The other team try to put a plan in place, but Dresden insists on starting. He gives a thumbs up to his team mates. He runs to go for the attack.
…
…
BUT EL TORRO DELIVERS A MASSIVE SPEAR!
OOOOOOOOOOOHHHHHHHHHHHHHHHHHHHHHHHHHHHHHHHHHHHH
EB: Bye Bye! Have a very good time!
Hammerstein face palms himself as El Torro makes the cover;
1..
2..
3!
Dresden is eliminated.
Hammerstien tries to step but anonimo rolls into the and goes for the attack. However, El Torro lifts him up for a massive powerslam into the turnbuckles! Ramon makes the quick tag to Washington as he confidently steps into the ring.
…
…
AMERICANRANA!
He lifts Anonimo up with ease.
…
…
THE DECLARATION!
Cover!
1..
2..
3!
Anonimo is eliminated!
S: And Hammerstein is the sole survivor of his team.
EB: Told you so!
Hammerstein rolls into the ring and makes a motion to bring it on as he collides with the American War Machine. The guys trade hammer shots with each other before Sam gets the upper hand with a huge uppercut followed by a massive clothesline lariat!
He tags Lincoln in as the crowd to get behind the last man standing. Hammerstein is stunned but tries to recompose himself as quick as he can. Lincoln roars out loud as he gets ready for the superman punch. The crowd appeal and shout at the fan favourite.
…
…
…
SUPERMAN PUNCH!
…
NO! HAMMERSTEIN COUNTERS!
…
DROP THE HAMMER!
S: YES!
Cover;
1..
2..
3!
Lincoln is eliminated!
EB: Surely not?!
Hammerstein shakes his fist vigorously as he pumps up the fists to regain his composure and get back in this match!
…
…
…
BUT RODRIQUEZ HITS A MASSIVE SPEAR AGAIN!
EB: Yeap, that is a no. Shame his team didn't help this time out!
Cover;
1..
2..
3!
DING DING DING!
S: The American Ultras are going to El Gran Anniversario!
The trio all pat each other on their back as they cement their victory with Sam even hugging El Torro.
TC: Here are your winners and number one contenders for the GOL Trios titles. THE AMERICAN ULTRAS!
S: My god the Ultras look stronger than ever with the addition of El Torro!
EB: A very tough first test for the Outliars come El Gran Anniversario! This deadly alliance may make the American Ultras the toughest trios team in the division!
The camera pans out to the Ultras making title motions to the camera.
----------------------
APRIL 2017

THE RETURN OF THE ONLY LUCHA INTERFED CUP COMMENCES!

…

16 FEDS

…

16 COMPETITORS!

…

OVER 4 SHOWS!

…

WITH A SPOT IN THE FINALS AT ETERNAL LUCHA II

…..

THIS IS THE SUPER FALCON CUP!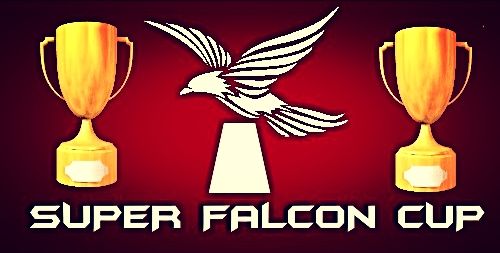 S: That's right. The super falcon cup returns to GOL in April, and it's our largest ever yet.
EB: So excited for this. Avery Miles III won the inaugural cup last year. This year is someone else turn to take home the falcon!
S: Named after the late great Hayabusa, the prestigious Super Falcon Cup, is returning to GOL!
--------------------------------
DING DING DING
TC: The following Lucha is for the last spot in La Azteca Rumble!
Holly Comes out on stage brandishing her trademark hockey stick. She yells to the crowd, pumping them up, as she waves the stick around. She then rushes down to the ring, sliding under the bottom rope and leaping to her feet. She goes to each corner and jumping onto the middle turnbuckle waving at the crowd before finally settling in her own corner to wait for the beginning of the match.
TC: From Guelph Ontario! HOLLY BUCHANAN!
"Down" by Otep hits and out walks Julliet Brooks onto the stage to a chorus of cheers from the audience, simply smiling from ear to ear, and continued to walk down the ramp. Once there she claps some fans hands at ringside then runs and slides underneath the ropes, soaking up the positive reaction. After she leans against the ropes and looks toward the entrance way, showing no intimidation to her upcoming opponent.
TC: From Albuquerque New Mexico! Julliet Brooks!
BUT HOLLY WASTES NO TIME AND IMMEDIATELY RAMS BROOKS INTO THE TURNBUCKLE!
S: Some fucking start to this already!
EB: She knows the last spot in La Azteca Rumble is up for grabs here!
She pulls Brooks hair back and slams her head into the ring mat! She carries this on with a massive dropping knee to the head of Julliet! She makes the quick cover;
1..
2..
Kick out by Julliet.
Brooks soon grabs the tights and throws Holly out of the ring. She slowly recomposes herself and sees her chance with Holly dazed on the outside.
…
…
SUICIDE DIVE!
She then carries this on by slamming Holly hard into the steel steps! She high fives some fans before rolling Buchanan back into the ring for a quick double Fujiwara armbar! Holly screams in pain before using her foot for the rope break!
EB: Good ring awareness by Holly.
S: Who's making her GOL return after several months off!
Brooks makes a signal for a shining wizard, but is soon met with a quick leg takedown as Buchanan sprawls around her on top before hitting in a modified Camel Clutch! Julliet doesn't panic and soon lifts her up to crush her into the turnbuckle which forces the hold off her.
…
BEFORE COUNTERING WITH THE TILT O-WHIRL BACKBREAKER!
S: Great counter!
Cover;
1..
2..
Kick out by Holly.
Brooks sees her chance as the crowd cheer her name on. She goes for an initial butterfly kick, but Holly dodges it and counters with her own hurricanrana! She sprints to the top rope for a massive diving crossbody and goes for the cover!
1..
2..
Kick out by Brooks.
Holly puts her in a headlock as the fans begin to clap their hands and stomp their feet.
LETS GO BROOKS! *CLAPPING* LETS GO BROOKS *CLAPPING*
Julliet uses the momentum and begins vigorously shaking her fists and slowly gets up from her knees. She rams her elbows into Hollys stomach before she breaks the hold off and hits a massive uppercut! She hits a huge clothelines onto Holly, before delivering another one and another one!
S: She is on fire!
EB: Holly has to change this quick!
Brooks roars out loud as Holly tries to counter with an Irish whip.
…
BUT BROOKS COUNTERS WITH THE FATE CRUSHER!
Cover;
1..
2..
Kick out by Holly!
Brooks roars out loud for the Amaterasu, but Buchanan manages to slip Brooks foot off the turnbuckle and hard into the ground.
Holly sees her chance;
..
..
..
SHINING WIZARD!
Cover;
1..
2..
…
NO! Brooks barely kicks out!
S: Brooks isn't going out easy!
EB: To Holly's dismay!
Holly gets Julliet lined up!
…
THE AVOCADO DROP!
…
NO! BROOKS COUNTERED WITH THE FATE CRUSHER!
…
FOLLOWED BY THE BUTTERFLY KICK!
EB: Ouch!
S: I fear the end is almost nigh!
Brooks slaps her face hard before going to the top rope as the fans cheer her on.
WOOOOOOOOOOOOOOOOOOOOOOOOOOOOOOOOOOOOOOOOOOOOOOOOOOO!
…
…
…
AMATERASU!
S: Nails it perfectly!
Cover;
1..
…
2..
…
3!
Julliet Brooks qualifies for La Azteca Rumble!
S: And Brooks is in!
TC: Here is your winner and qualifying for the La Azteca Rumble. Julliet Brooks!
A dejected Buchanan holds her hands in her head as Brooks arm is raised in victory!
EB: The Pride of New Mexico is going to be a tough egg to crack in this rumble!
S: Gotta feel for Holly though, she put up a tough fight!
---------------------------
The camera cuts to the backstage area with a very upset Holly Buchanan, furious at herself narrowly missing her on her match against Julliet Brooks. GM Chaos Dragon soon arrives and consoles her with his arm over her shoulder.
Dragon: Hey you did awesome out there! You came this close to an upset amigo!
Holly: Thanks….But it wasn't enough!
Dragon: I know dickhead Diaz put in that stipulation, but I'm back and running fucking things now. What you showed tonight was something I want to see in every GOL Lucha that comes here….Heart!!
WOOOOOOOOOOOOOOOOOOOOOOOOOOOOOOOOOOOOOOOOOOOOOOOOO
Dragon: And as GM I can add or remove how many participants needed for La Azteca Rumble!
Holly: You mean…?!
Dragon: I believe in rewarding those that bring their A game to GOL. Fuck Diaz and his stips. You are going to La Azteca Rumble!
Holly: Fuck yes!
Holly hugs the chaotic one and kisses him on the cheek before leaving spirited.
-----------------------
Stan Bush's "The Touch" blares as Roxi Johnson and Jack Tillman come out
Buchanan: Seems like tonight's match is going to be very cut and dry with Tillman in it.
the fans start chanting "HE IS WRESTLING!.........(clap, clap, clapclapclap)......HE IS WRESTLING!..........(clap, clap, clap,clap,clap.......HE IS WRESTLING!"
Tillman and Roxi enter the ring as Roxi begins playing to the crowd getting them excited.
KEG and Reeves come out to "Grace" by Lamb of God
KEG and Markus Reeves enter the ring and Reeves goes on the apron as Roxi does the same for her team
The bell rings and the match is underway
KEG comes out of the gate fierce with a clothesline to Tillman who goes down hard with a THUD!
Tillman grabs his neck in pain. He ask the ref to come close but as the ref is checking on him KEG lifts him and hurls him towards the ropes, Tillman counters with three elbows to KEG's mug. Tillman bounds off the ropes but KEG splatters him with a big boot to the face. Tillman grabs his neck in pain. He ask the ref to come close. Reeves askes to be tagged and KEG tags out as Tillman slowly gets up. Reeves lifts Tillman who hits a dropkick putting all of his 251 pounds behind it sending Reeves across the canvas. Tillman tags Roxi who comes out delivering a few clotheslines to Markus. Markus reverses Roxi's clothesline into a hangman's neckbreaker and then delivers five mounted shots from on top of Roxi's chest.
Roxi pushes Markus off who makes a quick tag to KEG. KEG grabs Roxi and puts her between the legs signaling a KEGBOMB, Roxi panicks and reverses nicely with a drop toe-hold. Roxi tags in Tillman who comes in hot with four knees to the back of KEG's head. KEG gets up slowly and forearm smashes Tillman who hits the floor.
Tillman grabs his neck in pain. He ask the ref to come close and KEG grabs Tillman's legs and goes for the KEGMISSION but Tillman kicks him off into Markus.
KEG looks towards Markus who was just blasted off the apron.
Tillman does an amazing job popping up for a guy with 210 pounds and a faked injured neck. Tillman grabs KEG by the waist and hits a beauty of a Ball Room Blitz on KEG
KEG is dragged into the middle of the ring and pinned.
1.............2.............3!!!
Tillman and Roxi walk out the arena to Stan Bush's "The Touch" as the winners of that hard fought match.
-----------------------------------
Sabrina is in the middle of the ring for a special segment. The fans all cheer her on before she gets ready for the next part of Chapter Nuerve.
S: Amigos! Last month we witnessed the culmination of one, If not, the best feud we have ever seen in Guerreros of Lucha. 3 epic matches later, one trio team would come out on top. Tonight, we officially close the chapter with these teams and move on to pastures new. So let me get out here first, the former GOL Trios champions. The Everyday Heroes!
The Heroes emerge as the fans roar on in their support. They are showing the war wounds with stitches and bandages as they softly walk down to the ring. As they slowly get in they are met with overwhelming support.
EVERYDAY HEROES! *CLAPPING* EVERYDAY HEROES! *CLAPPING*
S: And now, let me introduce to you. The NEW GOL trios champions….Sawtooth Grin, hewhocorrupts and Jack Levy….THE OUTLIARS.
Boo's echo around the labyrinth as the Outliars make their way to the top of the balcony. The three of them pose with the titles around their waists before unclipping the belts and lifting them over their shoulders. The confidently walk down the ramp and roll into the ring as they once again pose with the trios championships
BOOOOOOOOOOOOOOOOOOOOOOOOOOOOOOOOOOOOOOOOOOOOOOOOOOOOOOOO!
The two teams stand off as Sabrina tries to get in the middle of them.
S: Now it is safe to say that you two teams put on a war over the last several months. You all shed blood, sweat and tears. Heck you even put your own bodies on the line for that gold right there! But on Dragon's orders, the Outliars last chance at the gold turned out to be their successful one.
BOOOOOOOOOOOOOOOOOOOOOOOOOOOOOOOOOOOOOOOOOOOOOOOOOOOOOOOO!
S: Now the Outliars will face the American Ultras at El Gran Anniversario. The Heroes we hope to see you there also! But now is the time to shake hands and move on amigos!
The teams are extremely hesitant to acknowledge with a handshake to end their feud. The trios are resistant as the Everyday Heroes look to their fans. The reluctantly offer out a handshake…..but the Outliars refuse as Grin grabs the mic!
BOOOOOOOOOOOOOOOOOOOOOOOOOOOOOOOOOOOOOOOOOOOOOOOOOOOOOOOO!
Grin: We told every single one of you that we would take these titles! We didn't care how we did it, but as long as we did it! You fuckers all thought your Heroes would be standing in this ring as champions! After our close calls and Acido missing in action! But we are YOUR Guerreros of Lucha trios champions! We don't need to give respect. We should be GIVEN the respect!
BOOOOOOOOOOOOOOOOOOOOOOOOOOOOOOOOOOOOOOOOOOOOOOOOOOOOOOO!
Orion soon grabs the mic.
Orion: First off I just want to say before you sour the night by saying how proud we were to be your first ever trios champions!
WOOOOOOOOOOOOOOOOOOOOOOOOOOOOOOOOOOOOOOOOOOOOOOOOOOOOOO!
Orion: Best six months of our career. But while you take pride in enjoying your victory. We can at least have the honour and decency to say we won those belts without needing any help! You needed Diaz' cronies in clown masks to help you out!
BOOOOOOOOOOOOOOOOOOOOOOOOOOOOOOOOOOOOOOOOOOOOOOOOOOOOOOO!
Orion: Our feud is done for now so all I will say to you three is you better treat those titles with respect like what we have done and that you better not ever bring them down to your low level!
WOOOOOOOOOOOOOOOOOOOOOOOOOOOOOOOOOOOOOOOOOOOOOOOOOOOOOOO!
Orion: Sabrina, a little birdy told me that Diaz will do everything in his power to get his guy, or guys, to win La Azteca Rumble. Well we can't have that! You tell Carlos Diaz that the Everday Heroes WILL ENTER La Azteca Rumble!
WOOOOOOOOOOOOOOOOOOOOOOOOOOOOOOOOOOOOOOOOOOOOOOOOOOOOOOO!
Orion: We know the clowns aren't here tonight, but we know he will enter them in that rumble. And payback is on the cards amigos!
Grin: Woah wait one there for one second! This isn't your moment, it's our fucking moment! So you give the Outliars the respect we deserve! No more are we going to be looked down at! No more are we going to be laughed at! This is our time and the Labyrinth is our fucking house and not one you idiots are going to change that!
BOOOOOOOOOOOOOOOOOOOOOOOOOOOOOOOOOOOOOOOOOOOOOOOOOOOOOOO!
HWC: I'm already tired of this shit Grin! No respect! We had to beatdown Acido for nearly costing us and now this shit! No not anymore amigos!
Levy: Because the Outliars are here to stay! And here to rule the fucking roost of the Labyrinth!
Grin: Believe tha-
BUT RODRIQUEZ HITS A MASSIVE SPEAR ON THE TURNING LEVY!
EB: Spear! Spear! Spear!
The Outliars soon turn around as Hewhocorrupts is met with a massive superman punch by Lincoln! Washington soon grabs him and lifts him up over his shoulders.
…
THE DECLARATION!
…
NO! Grin escapes the ring!
BOOOOOOOOOOOOOOOOOOOOOOOOOOOOOOOOOOOOOOOOOOOOOOOOOOO!
Sam grabs the mic as he indicates to the Heroes that they are not targeted.
Sam: I'm sorry but you stupid gothic fucktards forget to mention that you have to deal with the greatest American Trios team in motherfucking history?!
The furious Outliars look up as they gradually ascend the Labyrinth stairs.
Sam: Your reign will be as green as goose shit! Because in Guadala, Guada, a stupid Mexican named village, those fucking titles are going to painted Red white and blue! Because we are the American Ultras!
Some fans begin to cheer the Ultras.
Sam: AMERICA! FUCK YEAH!
Sam drops the mic as the Ultras argue with the Outliars to hype their match at El Gran Anniversario!
S: I just got back from the chaos Eli! Business has picked up!
EB: The Ultras just made their statement to the champions!
A furious Sawtooth Grin murmurs to himself "This is our time! Not yours!" As the camera cuts.
---------------------------------------
ON THE 8TH MARCH 2016
GUERREROS OF LUCHA WAS BORN WITH "THE RISE OF THE LUCHAS"
ON MARCH 26TH 2017
WE HAVE AN EPIC FUCKING CELEBRATION!
EL GRAN ANNIVERSARIO!
THE BIG ONE YEAR ANNIVERSARY SHOW!
FEATURING TIGER MASK REDS HALL OF FAME INDUCTION
THE TRIOS AND REY DE REYES CHAMPIONSHIP TITLES
AND THE INAUGURAL LA AZTECA RUMBLE WHERE THE WINNER HEADLINES ETERNAL LUCHA II!
BE A PART OF THE HISTORIC CELEBRATIONS AND JOIN IN EL GRAN ANNIVERSARIO!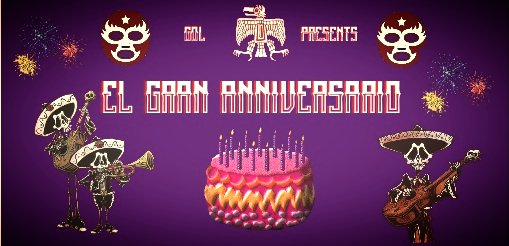 --------------
DING DING DING
TC: The following Lucha is scheduled for one fall…AND IT IS FOR THE GUERREROS OF LUCHA REY DE REYES CHAMPIONSHIP!
WOOOOOOOOOOOOOOOOOOOOOOOOOOOOOOOOOOOOOOOOOOOOOOOOOOOOOOO!
Carlos Diaz authority music starts to play along with the GOL owner emerging on stage along with his self-declared "Next big thing in fedding" Rosario.
TC: Making his entrance. El Gran Jefe Rosario!
The duo enters the ring to a chorus of boo's
BOOOOOOOOOOOOOOOOOOOOOOOOOOOOOOOOOOOOOOOOOOOOOOOOOOOOOOO!
"Noir" by Shandon starts playing softly in the Arena as the lights dim out. The tron is showing closeups of some of the tattoo covering Helena's body. The volume of the song starts growing louder as it approaches the chorus. As soon as it starts, the words "Never fear to suffer" pop up on the tron, while blinding lights pierce the darkness covering the entrance ramp. Helena walks out wearing a grey hoodie over her wrestling gear, pacing slowly to the ring keeping her head up, with the usual confident and almost challenging look on her face
TC: From Malmo Sweden! Helena Noir!
"Dark Horses" by Switchfoot begins to play as Avery Miles makes his way out to the arena. The word "MILES" shimmers on the screen behind him and he pulls back his hoody and smiles to the crowd. He offers a smile to the fans as he runs down the ramp slapping hands of the fans and climbs up the corner of the turnbuckle. He holds his arms out to the sides as the crowd cheers. Avery makes his way to the top turnbuckle and flips into the ring, landing on his feet.
TC: And the current GOL Rey De Reyes champion! AVERY MILES III
The three luchas look at each as this match gets underway!
DING DING DING
S: Here we go!
EB: This is going to be awesome!
Rosario immediately brags to both Miles and Noir about how he will become the next big thing in fedding and makes a title motion around his waist. Both Helena and Avery nod heads at each other before knocking El Gran Jefe to the ring mat!
EB: This is not fair!
The pair stomp on Rosario before Miles lets Noir get some revenge by delivering stomp after stomp before headbutting the former lifelong friend and throwing him out of the ring to Diaz's dismay. Soon Noir and Miles look at each other as the fans get hyped up for this first time encounter!
WOOOOOOOOOOOOOOOOOOOOOOOOOOOOOOOOOOOOOOOOOOOOOOOOOOOOO!
S: This is going to rock!
The pair please the crowd by trading blows with one another! Some fans cheer for the champ while the rest cheer for Noir. But not too long after Rosario rolls back into the ring and hits a massive dropkick to Helena! He carries on the attack with a duck from behind converted suplex for the cover;
1..
2..
Kick out by Miles.
Rosario hits hammer shots to continue the dominance which gets approval from Diaz. He goes and delivers another perfectly executed suplex before hitting a standing elbow drop! Soon El Gran Jefe mocks his challengers and goads to the crowd.
BOOOOOOOOOOOOOOOOOOOOOOOOOOOOOOOOOOOOOOOOOOOOOOOOOOOOOOOOO!
But Noir soon goes for the surprise roll up!
1..
2..
Kick out by Rosario!
This time it's Noir with the assault as she hits a perfect fishermans suplex, followed up with a standing moonsault!
S: Close match so far!
EB: All even!
Miles tries to get back up but Noir hits a massive superkick that sends him to the outside! She turns around to focus on Rosario who counters with the press like eye poke!
BOOOOOOOOOOOOOOOOOOOOOOOOOOOOOOOOOOOOOOOOOOOOOOOOOOOOOOOOO!
Rosario hits a massive European uppercut to stun the Swede before going for a huge powerslam for the cover!
1..
2..
Kick out by Noir.
Diaz applauds in support as Rosario smirks on.
…
BUT MILES HITS A THUNDEROUS SWINGING DDT FROM THE TOP ROPE FOLLOWED BY A STANDING STAR PRESS!
S: That is why he is our champion!
EB: Get up Jefe!
Miles sees Noir slowly get to her feet and hits bombardment of kicks and chops to the face and body of Helena. He bounces off the ropes for a carted crossbody!
…
…
BUT NOIR COUNTERS WITH INK YOUR FACE!
…
NO! MILES DODGED TO THE SIDE WITH THE RUSSIAN LEG SWEEP!
Cover!
1..
2..
Kick out by Noir!
Miles and Noir once again trade blows before Miles hits a snap roll up;
1..
2..
Noir counters with her own!
1..
2..
Miles counters with the side!
1..
2..
Noir jumps over on top!
1..
2..
Miles lifts her up with pure strength!
…
BUT ROSARIO HITS A GIGANTIC SUPERKICK!
Cover;
1..
2..
Noir breaks the count!
..
AND HITS STAY GOLD!
S: Wow!
WOOOOOOOOOOOOOOOOOOOOOOOOOOOOOOOOOOOOOOOOOOOOOOOOOOO!
Helena tries to get to her feet and makes a cut throat motion which prompts Diaz to send for help.
S: Wait who is Diaz calling for?
The lights go out on the arena and soon light back up to reveal the clowns are at the top of the balcony. They all laugh hysterically as they start to slowly walk down the steps. The fans begin to roar loudly as the Everyday Heroes emerge from the crowd and fight off the clowns! The smaller two are taken out as the trio focus on the seven foot monster clown. Cherry hits a massive low blow before the three all look at each other.
..
AND SUPLEX THE MONSTER CLOWN OFF THE UPPER BALCONY ONTO TABLES!
S: HOLY FUCK!
Miles sees his chance and goes for the West Coast Breakdown!
…
BUT ROSARIO COUNTERS AND LIFTS HIM OVER HIS SHOULDERS!
…
P2R!
EB: YES!
Cover!
1..
2..
…
3
NO! NOIR BARELY BREAKS THE COUNT!
S: WOW!
Noir lifts Rosario to his feet!
..
INK YOUR FACE!
…
BUT DIAZ DISTRACTS THE REFEREE AS HE THREW A CHAIR IN!
BOOOOOOOOOOOOOOOOOOOOOOOOOOOOOOOOOOOOOOOOOOOOOOOOOOOOOOOO!
As soon as the ref gets rid of the chair in the ring, Diaz slides another one without the referee noticing! Noir isn't aware of it as she goes for Rosario!
…
..
FONDU AU NOIR!
BUT ROSARIO SMASHES HER KNEE IN WITH THE CHAIR!
Noir rolls in as the fans roar for Chaos Dragons appearance! He shoves Diaz to the ground before chasing the GOL owner out of the Labyrinth!
S: It's all even now!
Rosario looks on annoyed.
…
BUT MILES HITS HIM WITH THE MILESBOMB!
EB: Get up!
Avery roars out loud before slapping his face and makes a motion for the West Coast Breakdown! He lifts Rosario up!
..
But Rosario breaks free and grabs the steel chair!
…
BUT NOIR SMASHES THE STEEL CHAIR INTO HIS HEAD WITH THE INK YOUR FACE SUPERKICK!
Noir rolls back to the outside in severe pain with the chair shot to her knee as Miles takes advantage!
..
WEST COAST BREAKDOWN!
EB: No!
Miles sees his chance and goes to the top rope!
..
..
..
THE LEGACY PRESS!
S: Nailed it!
Cover!
1..
2..
…
3!
DING DING DING
S: Avery Miles is going to El Gran Anniversario as champion!
TC: Here is your winner….and STILL Guerreros of Lucha Rey De Reyes champion! Avery Miles III!
----------------
Chaos Dragon suddenly shows up from the top of the balcony with a gift-wrapped box. He walks casually down the steps and rolls into the ring, requesting a microphone. Miles music cuts as the fans cheer for the GM and still reigning Rey De Reyes champion.
Dragon: Can I be the to say that was one epic fucking match!!
WOOOOOOOOOOOOOOOOOOOOOOOOOOOOOOOOOOOOOOOOO!
Dragon: You three put on one incredible match! And with that the last stop before El Gran Anniversario comes to an end! BUT I have one last thing for you.
Miles holds the belt over his shoulders curious.
Dragon: You see, I got this gift today. And this gift was to be given for the Rey De Reyes champion heading into El Gran Anniversario, which is you Avery! This gift contains the clue to who you will defend the title against next month. And let me tell you one thing amigo. It's going to rock the fucking building in Guadalajara!
Dragon hands the gift over to Miles III
Dragon: See you all in Guadalajara amigos!
Dragon rolls out of the ring as the crowd and Avery look at this gift, after shrugging his shoulders, he begins unwrapping the gift to reveal an open-ended box.
S: What on earth could be in this?
Avery soon opens the box, but suddenly after peaking initially inside it throws it down in shock.
OOOOOOOOOOOOOOOOOHHHHHHHHHHHHHHHHHHHHHHHHHHHHHHHHH!
S: What the hell
Miles grits his teeth before putting his hands over his head. He soon kicks the ropes before making big breaths.
EB: Whoever it is, Miles is not happy.
Avery soon picks the box up as the fans all appeal to reveal what is inside it. He squints before slowly revealing to the labyrinth.
…
…
…
THE MASK OF TIGER RED MASK!

YEEEEEEEEEEEEEEEEEEAAAAAAAAAAAAAAAAAAAAAAAAAAAAAAAHHHHHHHHHHHHHH!!!!
S: Oh my FUCKING god!
YES! YES! YES! YES! YES! YES!
S: The champion goes against the hall of famer! Red is fucking returning to the ring!
The final images are of Miles III looking back and forth between the torn mask of Tiger Mask Red and the banner of El Gran Anniversario as the crowd goes ballistic in anticipation of their main event match for March!